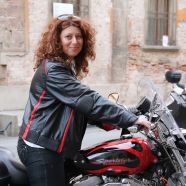 Dec

08
Tags
Related Posts
Share This
Violeta Ivanova
Violeta Ivanova is a motorcyclist from Bulgaria who rides a 1200 cc Harley Davidson Sportster. She is a Ladies of Harley Officer who actively works to increase the number of women who ride Harley Davidson motorcycles in Bulgaria. She does long road trips around her native Bulgaria and Europe. [Rashmi Tambe, Editor]
Name: Violeta Ivanova
Age: 39
Country: Bulgaria
Languages: English, German
Years Riding: 3
Height: 168 cm
Inseam:
Current motorcycles: 2005 Harley Davidson Sportster XLH 1200
Past motorcycles: Suzuki Marauder 800 1998
Riding Gear: Roof Desmo Helmet, Harley Davidson Pacific Coast Jacket, 171 Kevlar Jeans, Icon Pursuit Gloves, Harley Davidson Women Boots
Kms Per Year: 6500 kms 
Please introduce yourself.
My name is Violeta Ivanova, I was born in Varna – the biggest Black Sea coast city in Bulgaria. Bulgaria is a small but very beautiful country on the Balkan Peninsula in Southeast Europe. I grew up during the communist era but I went to college after the fall of the Berlin Wall, when all the old Soviet Union supporting countries opened up to the rest of the world. I live with my husband and my 12 year old daughter Stefana in Sofia, capital of Bulgaria. I got a Master's degree in Psychology at the University of Sofia, but my passion was to help people in their professional lives, so I've been working as a Human Resource and Training Manager for the last 15 years .
My other passion is of course travelling. Over the last 10 years my family and I have done a few great trips. The most impressive one was to Argentina and Uruguay, but the greatest motorcycle trip was our European run from Sofia to Barcelona this May with me on my Harley, my husband on his BMW R1200 GSA and my daughter riding pillion! She loves sharing our motorcycle adventures and I am sure she will be a great rider in a few years.
Since 2013 I am a member of the big Harley Davidson family and an active member of H.O.G. as a Ladies of Harley Officer. I decide to combine my strengths and my passion for bikes to dedicate myself to the cause of increasing the popularity of Harley Davidson riding among the ladies of the world, especially in Bulgaria. I am a very open and positive person and I love getting everybody excited about riding!
Please describe your path into motorcycling.
I was 5 or 6 year old when my mother told me about her unfortunately unhappy experience with a bike. She was riding on the back seat and burned her leg on the exhaust. The bike was a Simson 50 cc, which were the most popular bikes in communist Bulgaria.
In spite of this, I always knew that I would ride a bike someday. In 2009 I was in London at a U2 concert with a friend. We were just walking around the city and we saw many bikes and police cars in Soho. It was an organized protest by the motorcyclists against parking fees for motorcycles in London. I started to take some pictures and a guy came up to me and asked – "Do you ride?" I was very surprised and answered him that I did not but I wanted to. He told me that I was much too young and had plenty of time to learn. I laughed because I was 33 and not all that young. He started talking about wonderful it was to ride a bike and what a feeling of freedom you felt  when you rode. He showed me his bike and of course it was a Harley!
The next summer I decided to give my husband a bike for his birthday gift. When I sat on the back seat, it was the beginning of my riding life! In the spring of 2011 I got my license and only 2 days later I made my first trip – it was around 400 km in the mountains Rila and Pirin. It was so scary and so wonderful! I still didn't have a riding jacket and pants and I was deathly cold yet so happy ! My husband was exited about riding together and we rode every weekend after that!
Two years later, I got a Harley Sportster. I joined my  Harley group of friends that Christmas and they accepted me immediately. At the time, we  didn't have  a Harley Davidson dealership in Bulgaria. All organizations were informal – it was usually just a group of friends who all rode Harleys. When the first dealership opened in Sofia, I was elected as a Ladies of Harley Officer. It was my personal goal to increase the number of ladies who rode Harleys in Bulgaria. I start with contacting wives and girlfriends of Harley riders. I think next year we will be a real ladies riders group!
The summer of 2014 was the  greatest riding time in my life. I rode 3300 km from Bulgaria to Spain with  my husband and daughter. In June I rode with my Harley friends to Croatia to participate in Harley Davidson Days in Biograd – a small city on Adriatic Sea Coast. That was my first trip in a big group – we were 3 groups of 10 bikes. That was pure fun! In September I rode without my Harley buddies to the biggest biker event in Europe on Faaker See in the Austrian Alps! The great views, people from all around the world, great rock bands and maaany moto shops are the few of the things that make it obligatory for every biker to attend this event at least once in their life. Two weeks after that, we were invited to Miglia Mile event of H.O.G. Athens. I rode with over thirty of my biker friends to Meteora in Greece. We had a wpnderful trip in the Pindos Mountain – over 150 km curves, off road, great views and over a hundred Harley Davidson bikes!
This is a summary of riding experiences so far. I'm preparing myself for the next adventure, which will start in January with my second trip to Uruguay. I hope it's on a Harley!
What bike did you first start on and why?
My first bike and first love was a Suzuki Marauder 800. It is an old school cruiser with great personality and riding characteristics. It was a little funny: when I called the owner, he started to stutter and said: "But you are a girl!" I asked him what the problem was – was the bike too heavy, too big or something else, but he just responded that it was a surprise for him to receive a call from a girl about a bike! When I saw the bike and tried it I just fell in love. It was a real bike. I wanted to ride a bike which was pretty, big enough for me and good for long trips. I never wanted a bike to go to cafes or shopping in the city, or even to go to work. I wanted a bike for adventures and road trips, preferring paved roads, not dirt roads. 
Describe your current motorcycle.
My current bike is a Harley Davidson XLH Sportster 1200 cc. It has a Vance & Hines sideshots dual exhaust, a sport filter for increasing the horsepower, custom grips, and bigger fuel tank with red flames. I named it Harry because I think that describe him very well – he is cool but not macho, he is not big but strong and reliable. That's my bike! I like it very much, but I've started thinking about getting a bigger bike because when I ride with the "Big Boys" I am a little bit slower in overtaking the cars and when I ride long distance, it is more tiring compared to the bigger Harley cruisers.
What was the biggest challenge you faced when you were first learning to ride?
Maneuvers like the tight 360 degree turns and pushing the bike were my nightmares during the license training. I remember falling twice and I was so angry about that that I picked my bike up from the ground by myself before the guys come to help me. 
What's your dream bike?
I dream about quite a few bikes! I want to have a Harley Davidson Softail Slim, a BMW F800 GS an a Harley Davidson XA, which is a military model produced during WWII. I would also be happy to have a 1964 Royal Enfield Bullet Diesel.
Do you have a motorcycling achievement that you take pride in?
I do not think if this as an achievement but is something that makes me proud – I decided to ride and I ride hard! I think I can be an inspiration to the other girls who want to be riders but are too scared to try.
What's your favorite motorcycling story to tell others?
This one time I decided to ride alone to clear my head and have a relaxing day out in the nature. I rode near my home city Sofia to a very beautiful area named Pobit Kamak, which is something like Stonehenge. I rode my Suzuki Marauder to some woods and decided to stop on a sunny meadow to read a book, soak in some sun and drink a beer. I stopped near the road, but the meadow was inside the wood and I thought it would be better for me to ride into the woods and park the bike somewhere near me. The road into the woods was actually a little trail with many stones, leaves and roots. I rode very slowly in first gear, but the main problem started when I decided to make a full turn so that the bike was parked pointing back towards the road. The trail was so tiny and the trees so close that I decided to turn off the engine and push it manually into position. One tree root was my Mt. Everest. I tried to overcome it but without much success. I was alone in the middle of nowhere and I started imagining what would happen if I dropped the bike oton the ground. I got all my power and just didn't allow that root to stop me, madee the damn turn and parked the bike. 
Have you done any long distance road trips?
My longest moto trip was 3300 km from Bulgaria to Spain in 12 days. It was in May 2014 and it was so ecxiting! One Harley and one BMW crossing South Europe! My husband and I shared this great experience with our daughter. We rode almost 700 km across Greece on the first day, 450 km of which was in heavy rain.
In Italy we rode again in rain, but when we stepped on the highway to Napoli everything changed and we rode crossing the "Boot" in silence, admiring the views. We spend the night in my co-student home, near to Avellino, and relaxed with great Italian food. Our next stop was near Rome because of the storm and after that we had a great day in Piza. My daughter's favorite city – Monaco – was a real holiday stop! We rode on a great way of the Italian Riviera and spend the night walking in Monaco, enjoying the beautiful buildings, gardens and restaurants.
France is one of our favorite countries in Europe not only because of the food and great roads, but because of the people, small towns and villages near the Côte d'Azur in the French Alps. We spent the night in France near the famous National Reserve de Camargue in a family hotel that looked like a Steven King movie! After 5 days of riding and almost 2500 km we reached Spain. No rain, the sun was warm and shining and we rode on great roads. Barcelona Circle road was with heavy traffic, but the drivers were familiar with the bikes and riding was a pleasure. We spend few days relaxing on Balearic Sea Coast in small villages L'Ametlla de Mar. The last stop in our European trip was Barcelona. We spend the weekend near tthe o Barcelona Catalunya Circuit in the gorgeous village of El Mas Gordi. We rented a house for a Formula 1 race and our host was very nice old English gentlemen. Great experience and riding memories was everything I can say about this trip! Highly recommend to all lady riders! [Link to Route]
Is there any other kind of motorcycling that you'd like to try your hand at?
I want to try an off-road bike like BMW, because I want to make some trips in the wilderness i.e. to Tibet or to South America.    
Have you made any close female friendships due to motorcycling?
Oh, yes! I met my best friend Liza online while chatting in a motorbike forum. She rode a bike lke my Suzuki Marauder and we decided to do some trips together with her and her husband. That was the beginning of our great friendship.
After that I met many other girls with different type of bikes. I have friends who ride a Honda CBR, Yamaha R1, Suzuki Katana, Buell, Kawasaki Eliminator and much more.
Do you do maintenance and repairs on your bike?
I don't feel comfortable to do maintenance and repairs on my bike alone but I do some little things like installing new lights or mirrors. 
Do you have any motorcycling heroes?
I admire every woman who rides and makes big trips around the world. I want to be like Elspeth Beard, one of the early women globetrotters or like Benka Pulko, the Slovenian woman who has a Guinness record for the longest distance and duration for a solo motorcycle ride by the woman. Sooner or later I will make my big journey around the world with a bike!
If you could change one thing about the world of motorcycling, what would it be?
It's a very philosophical question! If I could change something, it will be the perception that non-riding people have about riders. I think that most people think motorcyclists are crazy, only because they think about how much more risky it is for us. But maybe those of us who ride can help change this perception.
Do you have any advice for people who want to get into motorcycling?
First of all when someone want to ride, it's wonderful! But riding is not only fun and freedom, it's also a responsibility. When you ride it is a responsibility not only for your own life, but for lives of other people not only on the road, but for your family and friends. And when you start to learn to ride, you should know what type of riding you want to do. Choose the right bike and learn the most important skills related to this type of riding. 
RIDING IN BULGARIA
If I were to visit you and we went riding for one short morning ride, where would you take me? :)
If we decide to do a short morning ride near Sofia, I will pick a great 240 km trip to Koprivshtiza, a little old town in the mountain Sredna Gora. The road is very picturesque, with long straight lines, curves in the mountain and not too many villages. We could get coffee in the Windmills complex near Gorna Malina village, stop for fuel in Pirdop, and take pictures on Vassil Levski Monument.
After the first part of the trip we will stop to see breathtaking views on the bridges around Anton village where very often they have bungee jumping. The next part of the road to Koprvishtiza is through the woods but not off road. We can enjoy scenic green hills on which herds of sheep and cows graze with happy shepherd dogs running and yelping. If we are lucky, we could see some deer and roes. After only 12 km riding we will arrive in the old town of Koprivshtiza and park our bikes on a plaza with an old fountain, little green garden and many restaurants and cafes. We can rest for a while and start our walking trip to see old houses, samples of traditional Bulgarian architecture from medieval times. We can visit the birth houses of the writer Lyuben Karavelov and of the poet Dimcho Debelyanov, who died during WWI.
After this cultural and historical walking tour, we could get lunch with traditional Bulgarian food in Chuchura restaurant and eat meals like katino meze, which is a mix of pork, chicken and vegetables with sauce; and taste a traditional banitza – a salt cake with eggs, cheese and milk.
Then we would ride back on another road to Strelcha and Panagyurishte, where we will see the unique gold treasure dating back from 4 BC in the local museum. After drinking a coffee and water we will go to the highway Trakia and back to Sofia. [Link to Route]
What's the best part about riding in Bulgaria?
I think the best part about riding in Bulgaria is the variety of nature in such a small territory. The country is located in the center of the Balkan Peninsula and it's only 110 000 square km. If you ride across west-east in Bulgaria, it takes only four hours and during the ride you can see almost everything – big mountains, woods, planes and plains, lakes, and rivers. The scenery changes every thirty minutes! You can enjoy a variety of fruits like grape, apples, peaches, apricots, pears in the north, and cherries, figs and olives on south. You can taste  delicious food and red wine when you stop for rest after riding. You can smell the pines and firs in the northern mountains and oaks and beeches in the south. 
What kind of food can riders expect to stop for on the way that is typical to your region?
When you ride in Bulgaria you can taste different types of food – trout from the rivers, bluefish and sea turbot, pork and lamb in province and potatoes dishes like patatnik in Rodopy Mountain, and traditional banitza. When you drink you should be careful with rakia, the strongest alcohol drink in Bulgaria, traditionally produced from grape or fruits. If you like desserts you should taste the famous Bulgarian yogurt with different types of honey or wild strawberries or blueberry marmalade.
If a motorcyclist from another country visited your country, what are the top rides you would recommend?
We have so many picturesque routes that it is difficult to choose. One of the best will be in Rodopy Mountain. [Link to Route]
How does the topography of the place you live in affect the kind of motorcycling you choose to do?
In Bulgaria you can ride any kind of motorcycle. Of-road or dirt riding is the best choice because of all the mountains. 
What is the traffic like and how does it affect motorcycle riding?
Bulgaria is in the center of the Balkan Peninsula and is the crossroad from Asia to Europe. This means that there are many trucks crossing the country and it's better to ride away from the highways. 
What are the best months for riding?
The best months for riding are from April to October, but depending on the weather you can ride in March and November. Some of my friends ride all year but we have hard snowfall from November to February  and I personally avoid riding during these months. 
Is it safe to ride at night where you live?
Yes, I think so. The traffic during the night is low and we do not have big animals crossing the roads. 
Is motorcycle theft a problem?
It doesn't happen often but it's safer to keep your bike in a garage or paid parking during a stay in Bulgaria. 
Are there any motorcycle specific laws?
The helmet wearing is obligatory by the low. Also the insurance of motorcycle is obligatory. When you crossing country you do not need to have a vignette and riding is free of charge even on highways. There isn't any kind of discrimination against motorcyclists in Bulgaria. 
Are there any motorcycling related political issues that affect your ability to riding?
Currently you can ride everywhere in Bulgaria, excluding territory with special regulation like nature reserves, but changes in the law are now under discussion. 
How do the police treat motorcyclists?
In most of the cases the police do not stop the motorcyclists even they ride faster than is appropriate. But if you do not have license or ownership documents you could get fined. 
Can you describe the motorcycle license test?   
There is a theory test about your knowledge of road lows and ordering. The next level of examination is to practice your skills to start and stop, to ride with a passenger and to do some maneuvers like 360 degrees turn and crossing obstacles. The final examine is riding in city traffic.  
Do you have access to high quality women's motorcycling gear in your part of the world?
Yes, but I buy my gear online. 
Are any motorcycle related sports popular where you live and do women actively participate in them?
In Bulgaria we hold a National Motocross Championship and stages of the European Motocross Championship. My friend Iva Stanoeva is one of the best motocross lady riders in Bulgaria. 
How are women motorcycle riders treated by most people and by male motorcyclists?
Women who ride are still rare in Bulgaria, but according to world trends we are increasing in number over the years. I think we do not have any issues related to bad treatment by male motorcyclist or non-riders. On the contrary, I think that lady riders are a positive trend and supported by most people.  
Do female and male motorcyclists have the same amount of freedom to pursue motorcycling activities?
Yes, absolutely! If some lady wants to ride, she can. Maybe some husbands aren't too happy with their wife's riding because they feel their freedom is threatened in some way. 
VIOLETA RECOMMENDS
Books:  Zen and the Art of Motorcycle Maintenance
Movies: The World's Fastest Indian
Magazine: American Iron
Female Motorcyclist: Elspeth Beard
All content and images on this page are copyrighted to Global Women Who Ride and cannot be reprinted, republished or reproduced in any form without written permission from the owner. For permission, contact admin@globalwomenwhoride.com