Dec

09
Tags
Related Posts
Share This
Bahar Parsa
Today's interview is a bit of a milestone for Global Women Who Ride. We talk to a woman motorcyclist from Iran – a country that bans women from riding on streets, although motocross is permitted. Bahar Parsa is a young motocross rider from Tehran who is passionate about riding her Honda CRF 250 on the pistes – the only place where she can ride to her heart's content. She is supported in her hobby by her close-knit, loving family, a very vital component to being a woman motorcyclist in this country. I hope you enjoy this insight into this motorcyclist's life. Perhaps, like me, the next time you hop on your bike, you will feel just a little bit grateful for the freedoms we take for granted while we're out riding. [Rashmi Tambe, Editor]
Name: Bahareh Farjadi Parsa
Age: 28
Country: Iran
Languages: Persian, English
Years Riding: 6
Height: 167 cm (5′ 7″)
Inseam: 32″
Current Motorcycles: 2012 Honda CRF 250
Past Motorcycles: 2009 Yamaha YZF 250
Riding Gear: Nitro helmet, Alpinestars gear, Scott boots, Alpinestars gloves, Fox gear
Kms Per Year: I ride about 600 hours in a year
Please introduce yourself. 
Hi, my name is Bahareh, but my friends call me Bahar. I was born in Tehran. I live with my mom Farideh. I'm single and have two brothers – Mehdi, who lives in Iran, and Hadi who lives in Ireland. I paint, play the guitar and harmonica, and have done some accountancy courses. I'm crazy about motocross. Since I first got into this sport I fell in love with it and nothing else is as pleasurable to me. My family supports me in every possible way and my goal is to make this sport more known to people here in Iran who are not familiar with it. I try to popularize it via my Facebook fan page and by speaking on the radio about it.
Please describe your path into motorcycling.
I remember the first time I wanted to get on a motor bike. I was 22. I didn't even know how to start the bike as there was no one to show me. But my mom was standing next to me and she told me that she was sure I could do it. She was a bit worried but as soon as I started it I was screaming with happiness and excitement.
In the beginning, riding was only one of my interests. But after three years, I began learning and training alone. My mother was always by my side. Once I was seriously injured but it was still a good experience though. I spend all my money on motocross now.
What happened?
I was doing a jump and I fell and broke my leg and had to get a steel plate in it. While I was injured and unable to ride, I took a professional driving lesson.
What bike did you first start on?
I did not know much about riding, so I started with a small bike – an 80cc bike. I later got a Yamaha YZF 250.
Describe your current motorcycle.
I own a 2012 Honda CRF 250 which is a lot better and more powerful than the older ones I used to own. Unfortunately I had an accident with this bike which was my own fault and my
leg was hurt but I am not sad about it as I learned my lesson after that.
What was the biggest challenge you faced when you were first learning to ride?
When I started I had no coach and was not familiar with the sport, so my mom and brothers weren't really happy, but after a few days when they got to see me in riding gear and helmet and saw that I was getting better, they started to support me.
Do you have a motorcycling achievement that you take pride in?
There are no competitions for girls in Iran so I could not get status or win anything. But our girls in Iran are the real heroes. Despite the many problems, they continue to ride.
Are you allowed to compete in motocross events outside Iran?
Yes, it is allowed but it is very, very expensive. I will need sponsorship to do it.
If you were allowed to ride on the streets, what kind of bikes would you ride?
I like sport bikes. I would also like go travel on a motorcycle and see other countries like Lois Pryce does.
You met Lois Pryce when she was visiting Iran, didn't you?
Yes. When I went to the mountains for practicing, I met Lois and she took this photo of me. We talked a little about motorcycles. We didn't get to ride together though.
Did you have a mentor who helped you become a better rider?
Yes, many other motorcycle riders helped me. Especially Mr. Naraghi and Mr. Amirreza Sabetifar.
It sounds like your mom and brothers are also extremely supportive of you!
Yes. My mom is always by my side and encourages me. She did not ride when she was younger but she sits behind me on the motorcycle and next to me in the car and tells me to "go fast"! When I do jumps on my bike, she stands and watches with a smile.
My brother are very kind too. My brother Mahdi comes to watch me ride on the piste. And my brother Hadi who lives in Dublin always sends me photos of motorcycles when he sees them there.
My family once got me a birthday cake with me riding on it. And when I was in the hospital with a broken leg, they got me a toy motocross bike.
Did you get any of your female friends into motocross?
Many of my female friends were interested in riding, but failed to get into it because of its high costs.
Do you ride with a club?
No, there are very few women who ride motocross, so each of us do our training programs separately. Usually, on holidays, we all gather at a resort and practice together.
Do you do maintenance and repairs on your bike?
I'll clean the air filter, but let the mechanic do all major repairs.
Do you have any motorcycling heroes?
Yes, Amir Reza Sabetifar in Iran and James Stewart in the world.
If you could change one thing about the world of motorcycling, what would it be?
Everything is okay in the world of motorcycling except in Iran where women are not allowed to ride on the streets. These rules should be updated and girls should be allowed to ride with respect.
If you could design your dream motorcycle, what would it look, sound and feel like? 
I love the appearance and sound of both two-strokes and four-strokes. Most important to me is the height. If you change the size of the shock absorbers, ladies with normal height can ride comfortably . In terms of weight, less is better. Tubeless tires would be excellent.
Do you have any advice for people who want to get into motorcycling?
My advice to anyone who want to get into motocross is to start with an experienced coach and make sure to follow all the safety guidelines, from special clothing to helmets and gloves. Also make sure to be mentally and physically ready before getting on the bike to fully enjoy this incredible sport.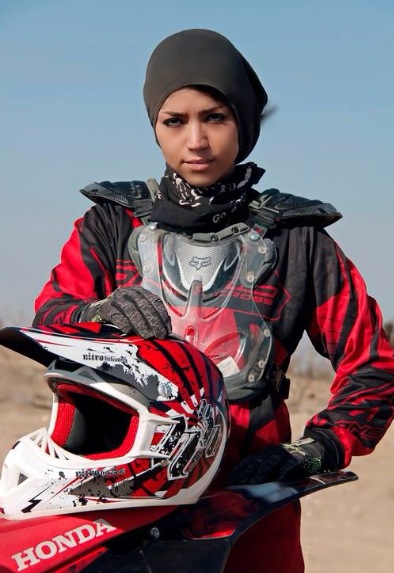 RIDING IN IRAN
If I were to visit you and we went riding for one short morning ride, where would you take me? :)
I would take you into a mountainous area called Kuhsar where you can see green landscapes and beautiful trees. There is also a beautiful motocross resort there. There are good mountain roads in northern Iran where you could go riding too.
What is the best part about riding in Iran?
Iran has different mountains, deserts, and seas with great weather in different seasons. We have great desert roads in different cities with historical places to visit, which I can't describe in words. Tourists – both men and women – can come with their motorbikes. Also, Iranians are very hospitable.
What kind of food can riders expect to stop for on the way that is typical to your region? 
On the way to the top, there are lots of restaurants in nice gardens with trees and flowers, which serve different types of Iranian food like kebabs and dizi . They also have seasonal fruit.
How does the topography of the place you live affect the kind of motorcycling you choose to do?
I live close to a mountainous area and on the top there is a track for motocross riding, which motivated me to choose this field. I tie my bike to my car  and take it to the track for riding because its against the rules for women to ride a motorcycle in the streets.
What are the best months for riding?
March to October.
Is it safe to ride at night?
It's not possible to ride at night on the track because there is no professional lighting. but the authorities have promised to fix this problem.
Is motorcycle theft a problem?
Same as other countries. Tourists will have no problem in Iran with their motor bikes. Iranians will help them if they have any trouble with their bikes.
Are there any motorcycling related political issues that affect your ability to ride? 
In Iran, motorcycling is not permitted for women. Only a few women can ride motocross bikes on the trials. This makes participating in this sport difficult . However, we are still riding. If there were more interior and exterior matches and more facilities, we would certainly improve more.
Are there any motorcycle specific laws? 
Different motorcycling fields have special trails for themselves and there are different rules for each level of bike. For example, motocross bikes must transfer to the trails with a car, race bikes more than 250 cc cannot ride in the streets and just on track, and all riders should have a driving license.
Can you describe the motorcycle license test?
Motorcycle licenses are not given to women, but men over 18 can get one if they work hard and are completely familiar with the rules.
Do you have access to high quality women's motorcycling gear in your part of the world?
We have access to all the gear but women need a place for riding to perfect their skills.
What kinds of motorcycling events are held regularly? 
There are no any special events for us in Iran.
Are any motorcycle related sports popular where you live and do women actively participate in them?
Yes, motocross is very popular among ladies and I'm sure that if the government provides the right conditions, women will choose this sport because it is so exciting.
How are women motorcycle riders treated by most people and by male motorcyclists?
Women are not allowed to ride on the streets. And many people do not know that we can ride motorcross and this is why it is interesting for people. They do not believe that a girl with a motocross bike can do jumps at that height, so they take photos and smile.
BAHAR RECOMMENDS
Movies: Freestyle by William Dear and all motocross match movies
Female Motorcyclist: All the women are the best and all of them are champions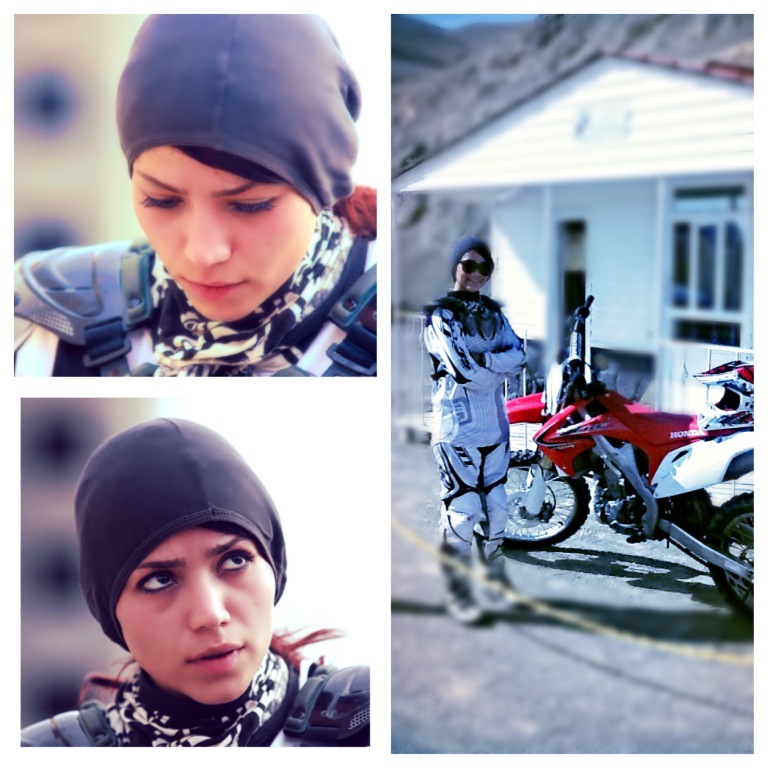 All the content on this page is copyrighted to Global Women Who Ride. It may not be reproduced in any form without written permission from the owner. Please contact admin@globalwomenwhoride.com for permission.