May

02
Tags
Related Posts
Share This
Hilal Bayazit
Today's rider is Swedish-born Hilal Bayazit from Turkey. Hilal rides a Ducati Monster and talks to us about riding through Turkey and Greece. Her photos of her rides are a visual delight and make me long for the open road. Perhaps it will inspire you to pick up a map and plot some fun rides in anticipation of the next sunny weekend. [Rashmi Tambe, Editor]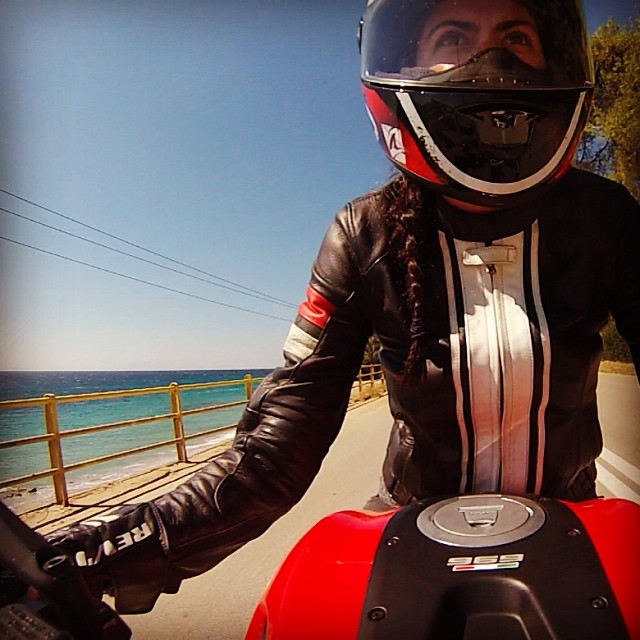 Name: Hilal Bayazit
Age: 35
Country: Sweden & Turkey
Languages: Swedish, Turkish, English, Arabic
Years Riding: 1
Height: 173
Current motorcycles: Ducati Monster 696, year 2013
Past motorcycles: None
Riding Gear: Shark helmet, Rev'it Jacket, pants and gloves, Alpinestars boots
Kms Per Year: 7000km in 2 months
Please introduce yourself. Hi! My name is Hilal Bayazit, I was born in Gothenburg, Sweden. I work today as a freelancer product designer in this cold and rainy Nordic country with its beautiful landscape and nature.
My parents are from Turkey so we used to visit Turkey every summer vacation. When I was 15, I wanted to move to Istanbul, the largest city in Turkey with a population of  over 14 million, a crossroad between Asia and Europe, a city with passion, history, modernity and culture, a city I fell in love with when I was a little girl. So I moved, went to a boarding school (because my parents still lived in Sweden) and continued my higher education and university in Turkey. I worked there a few years and got my driving license, but had no money for a bike I wanted during those years.
After high school, I studied Arabic language and literature. I started riding horses at the professional level and started to compete in the show jumping category.
I was also very passionate about art since I was very little. I drew and took some courses. I wanted to do it professionally so  I decided to move back to Sweden to study design. I moved back and forth between Sweden and Turkey for many years but I always carried my passion for art and riding  – both motorcycles and horses – with me .
I'm a furniture designer now and my products are produced in Turkey, which means that I'm in Istanbul often. Last year in the summer of 2013, I could finally afford a bike that I wanted- a Ducati, but I had to decide if I was going to buy it in Sweden where I lived, or my second home Turkey where I went quite often and spent my entire summer. I chose the second alternative. I bought my bike at the end of June 2013 in Istanbul.
What is your first memory involving motorcycles?
My very first experience was when I was 13-14 years old, I lived in Sweden and we went to a  motocross race course with the school. There we could try to ride a cross bike. It was a lovely experience I will never forget.
What bike did you first start on and why? My friend Yakup first taught me how to ride on his Honda Movistar 600RR.
During my years at high school, my best friend Sule and I hired motorbikes called "mobilets" in Istanbul on weekends from an old man who had a repair shop and rent out bikes, motorcycles and scooters.  We used to ride along the seaside. That was one of my best moments then.. to feel the wind and ride – something difficult to describe to someone who hasn't ridden.  We dreamed of one day doing this on "real bikes" and to ride across the country together.
I'm waiting for her to buy her bike so we can do what we promised each other back then. ;)
Describe your current motorcycle. My ducduc (a Ducati Monster) is the bike I dreamed of. I always loved Italian design, not only motorcycles, also their cars and furniture designs. It's a naked bike with a characteristic design, a city bike with a special sound and motor.
Have you done any long distance road trips? Since I'm a "beginner rider" with my Ducduc,  I have only done a small trip around the Marmara region in  the west of Turkey.
My longest trip was to Greece – a 2000 km trip from Istanbul, Turkey to Halkidiki, Greece and surrounding cities. Now I'm planning for a ride starting from Istanbul to the Marmara region, then to the south of Turkey and back to the north.
What's your favorite motorcycling story to tell others? When I rode to Greece, there were two of us. On our return to Istanbul, it started to rain, We didn't have any rain clothes on us nor was our luggage water proof. We hadn't counted on it raining because it was early autumn and the weather was 24 C (75 F).
We were riding through an area with no shelter in sight. It started to rain so much  that when we found a bridge we tried to take cover, but the rain kept on and we had to ride on. We rode until we found a gas station where we could change our clothes but the clothes in our bags were also wet. We continued to ride to the border of Greece and Turkey. When we got into Turkey it got even worse so we had to stay at a hotel overnight. The fearful feeling I had that day can't be described.. but this was a good lesson and experience for us.
Do you do maintenance and repairs on your bike? I really want to learn about repairing a bike, unfortunately I know nothing about it  – for now. :) So I have to leave it to the professionals. But I do wash my bike by myself. :)
Do you have any advice for people who want to get into motorcycling? Yes, practice a lot, also do it with different bikes if you can do a test ride, so you know what kind of bike you want to ride, and the important thing is – never ever go out and ride without full riding gear. 
RIDING IN TURKEY
If I were to visit you and we went riding for one short morning ride, where would you take me? A short morning ride would be to the coast of Bosporus. There you can see a beautiful view of the city and its silhouette while resting at a lovely cafe and drinking Turkish tea.
If we stopped to eat during a ride, what kind of food and drink would we get? There is a lot to taste here in Turkey. The traditional dishes will vary from region to region. We could get Turkish kebabs – slow cooked beef or chicken sliced into stripes and placed on a plate with rice and vegetables or in a pastry wrap. We'd usually eat them with a glass of ayran, a drink made of yoghurt, salt and water, köfte (meatballs), pide (looks like a half wrapped pizza), vegetables such as yaprak sarma or dolma.
We could also get desserts like kunefe, kadayif and baklava. Another traditional thing here is that after your meal you order a glass of turkish tea which is served in small traditional  glasses. If you are a coffee lover you can taste the Turkish coffee with some Turkish Delight called lokum.
What's the best thing about riding in Turkey? It's a country with so many different geographic areas. You have a long coast, beautiful landscapes and a long history. And the weather? Yes, the sun salutes you almost every day of the year.
If a motorcyclist from another country visited your country, what are the top rides you would recommend? My top rides is to start from Marmara region-west of Turkey to Karadeniz – Black Sea region- the north region of the country which has a lovely green landscape.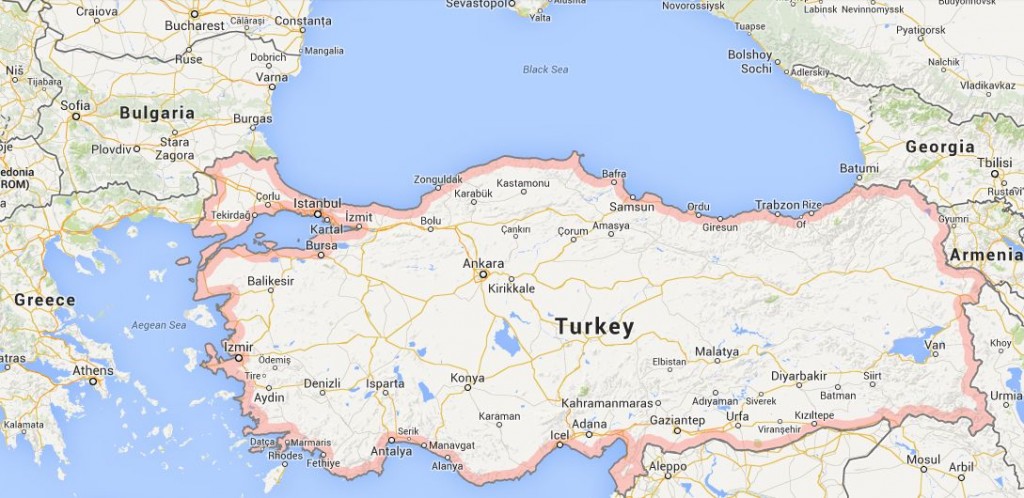 How does the topography of the place you live in affect the kind of motorcycling you choose to do? Istanbul is a cosmopolitan city with almost 14 millions citizens, it's a modern city and the environmental plan is quite good, so you can choose any kind of bike.
What is the traffic like and how does it affect motorcycle riding? Unfortunately Istanbul is so crowded and it can be a mess to ride in the city. The traffic rules are not fully filled and the car drivers are not so conscious of motorcycles.

What are the best months for riding? The weather in Turkey especially south and west of Turkey is suitable for almost every month of the year.
But the best months are between April-October.
Is it safe to ride at night where you live?
Yes. I think it's safer than the day because there is less traffic at night.
Is motorcycle theft a problem? Yes they say so, so you have to be extra careful where you park. 
Are there any motorcycle specific laws? No, the rules are the same as Europe but sometimes I can feel a bit annoyed when car drivers notice that you are a women rider and then they want to "prove" themselves by driving crazy. 
How do the police treat motorcyclists? It's nothing different, they are treating like they do in another European country. But they do get surprised when they see a woman rider so they kind of flirt often.

Can you describe the motorcycle license test?   
The license test I did was approximately 8 years ago. I've heard that a lot has changed since then. When I did it I drove a scooter- yes, a scooter in a school park and nothing in traffic. And I got an A2 driving license. So afterwards I had to go take some courses to learn for real!  
Do you have access to high quality motorcycling gear in your part of the world?
Yes we can find anything we want. The prices can be a little high in Turkey.
Is there a local motorcycling event that you try and attend regularly? I'm a member of Ducatistanbul, a Ducati riders group in Istanbul. We have a forum where we all share our experiences, news, riding trips etc. We also do trips together.
Are any motorcycle-related sports popular where you live and do women actively participate in them? Yes, there are track races and competitions and motocross and Enduro competitions. And some women actively participate.
How are women motorcycle riders treated by male motorcyclists? They first get surprised but they like it actually. You often hear compliments from them, but they have such an ego sometimes. They want to show you that men ride better ( a comparison or competition in their head actual, don't think any women have such an ego to prove something to them).
Do female and male motorcyclists have the same amount of freedom to pursue motorcycling activities? Yes, I have never seen anything else but this doesn't mean that it can't be so.
HILAL RECOMMENDS
Movies: Why We Ride
Magazine: Allt om MC (Swedish)
Blogs: http://haytahayat.blogspot.se
Web Forums: www.ducatistanbul.com
Professional Motorcyclist: Kenan Sofuoglu
Female Motorcyclist: Turkish racer Name Ekin
https://www.youtube.com/watch?v=xDN7gByQKRc
If you would like to be a part of the Global Women Who Ride series, please email submissions@globalwomenwhoride.com.