Mar

07
Tags
Related Posts
Share This
Naomi Tweddle
What happens when mom and dad both ride and take their young daughter on multi-day motorcycle trips? Naturally she falls into motorcycling when she grows up. From riding her Ducati Monster around gorgeous British Columbia and her BMW F800GS all the way to South America, today's Canadian rider Naomi Tweddle has a lot of miles under her belt. She was even featured in the UK Bike magazine for one of her epic rides. Check out her story and cool photos!
Name: Naomi Tweddle
Age: 29
Country: Canada
Languages: English, French and Spanish
Years Riding: 14
Height: 164cm (5'3″)
Inseam: 75cm (29.5″)
Current Motorcycles: Ducati M696, BMW F800GS, Yamaha WR250R
Past Motorcycles: Kawasaki 350 LTD
Average Kms Per Year: 20,000 km
Published in:
 Bike magazine December 2013 issue,
Ride Report
s at ADVRider
Please introduce yourself. I am a Mining Engineer living and working in Canada. I live in one of the best provinces in Canada, or at least I think so, British Columbia. While riding motorcycles consumes most of my free time, other things I enjoy include playing soccer, wind sports and most things that get me outside. But really most of my time is spent riding motorbikes.
What made you want to ride? My dad had a motorcycle, so growing up I went places on the back with him. Then my mom got a motorcycle when I was about 10 years old and we went on family trips (my sister and I on the back of their bikes). As soon as I turned 16 I got my motorcycle learner's license and started riding my mom's bike (which eventually became mine). So I guess riding motorcycles was inevitable for me. It was accessible for me and I loved riding my bicycle around as a kid. I guess it was just something I gravitated towards.
Even though riding, or at least trying out riding, seemed inevitable it did not mean it would become such a passion of mine. I do the occasional day ride but what I really enjoy is touring, whether it is sport touring or dualsport touring. Travelling by motorcycle is my favourite thing to do. I love looking at a map, picking a road and just seeing what happens. So I guess at the heart of it, what made me want to ride is that it is the only form of transportation I enjoy, the destination no longer matters.
What bike did you first start on? My starter bike was a hand-me-down from my mom, the Kawasaki 350 LTD. It was a great starter bike because it was cheap to run and easy to handle. I drove across the Province on that little bike surprisingly.
And what are you riding these days? I own a Ducati M696, a BMW F800GS and a Yamaha WR250R. My favourite of the three is the Ducati Monster. Every time I ride that bike I have a smile on my face. It looks good, it sounds good, it just feels good. It was the bike I always wanted and 1 year after graduating University I had enough money to buy it. It was the first motorcycle I bought.
Have you done any long distance road trips?  The two biggest trips I have done (both with my husband): a trip across Canada and back (~15,000kms) lasting 5.5 weeks and our trip to South America (~40,000kms) lasting 8 months. I guess the trip to South America was my favourite but I enjoyed both for different reasons.
During the trip across Canada I was riding my M696 and it was really nice to see different parts of my native country.
The trip to South America was a nice experience. Travelling with time freedom is very rewarding. We maintained a trip ride report while we were travelling: http://www.advrider.com/forums/showthread.php?t=620023
Can you share a good story from your travels? Most of the good stories happen when we get lost, and we get lost a fair bit. One that comes to mind was a dualsport trip we were doing around BC. It was near the and of the trip and our map showed a road (near Gang Ranch, BC) that would connect through to Lilooet. We were having an amazing time riding, the scenery and roads were fantastic. We then proceeded to spend the entire afternoon lost and driving round and round in circles. We first came to a gated dead end. Then we retraced our tracks a little bit and took a side road that we thought we located on our paper map.
We chased that lead down for a few hours until we ended up right back where we started, a corner with a bunch of cows grazing, WTF? We already passed those cows twice today. We then chased up every single road we saw, and tried to correlate it to our map. The roads were pretty rough for our huge F800GSs. We were eventually stopped by trees that had fallen over the road and that we could not pass. It was also getting dark. So we camped at the side of the road, in the middle of nowhere (me thinking I'd get eaten by bears). In the morning we retraced our steps back to the "main road" and continued on our journey via an alternate route.
[Day 7 http://advrider.com/forums/showthread.php?t=810126&page=4]
Do you have any advice for people who want to get into motorcycling? Before you do anything, take a riding course. If you don't have access to a riding course find someone with lots of riding experience who can teach you. You'll have a pretty good idea if motorcycling is for you after you've had a chance to ride a bike in a controlled environment. Find the type of riding style that suits you and enjoy. There is a riding community out there that will embrace you.
RIDING IN CANADA
If I were to visit you and we went riding for one morning, where would you take me? I would take you for lunch in Port Renfrew. This is a day ride that people I ride with do often and can be done as a circle route.
The ride starts in Crofton. We take the backroad to Lake Cowichan, which is the last place to get gas for a while. The recently paved road to Port Renfrew is an industrial road and it is common to see logging trucks on this road. The road is nice and twisty, and a lot of fun to ride. Lunch is had at the Raincoast Cafe, on a weekend you will see all kinds of bikes parked outside. Then, if doing the circle, we head to Sooke. There are some nice ocean views along this route. Once returning to civilization the traffic increases and it's pretty much a straight scoot back to the Swartz Bay Ferry Terminal.
[Link to Route: http://goo.gl/maps/xSzc5]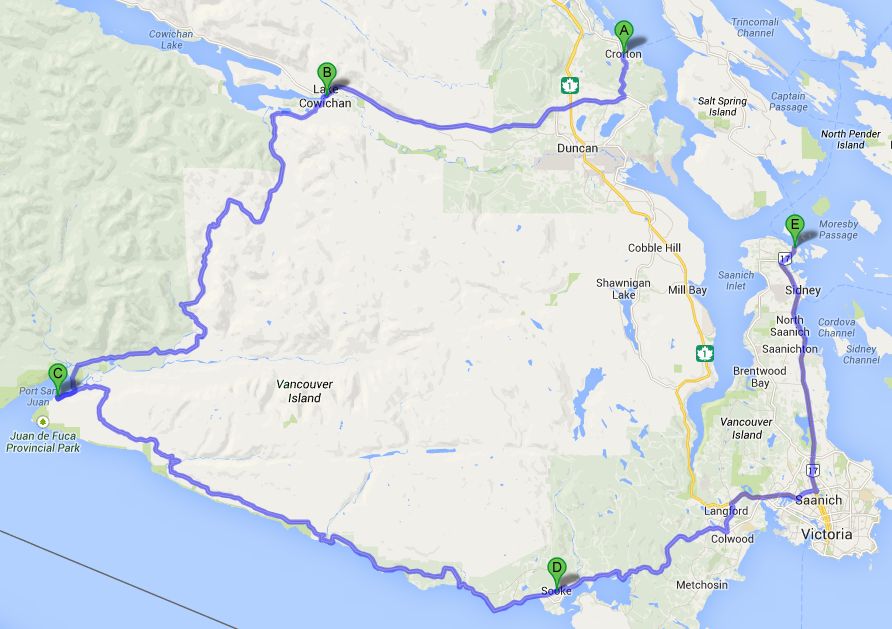 What's the best part about riding in British Columbia? I love riding in BC (mostly Southern BC for me) because it is not densely populated and the scenery is amazing, well I guess as long as you like mountains. From temperate rainforest on Vancouver Island to the desert landscapes of the Okanagan, and then back into the Rockies for some amazing mountains. BC has a tons of backroads to explore so no matter if you are street bound or dualsporting there is lots to explore.
What are the top rides you would recommend in your region? I would recommend riding in the Kootenays if you are on a street bike. There are lots of amazing roads and cool towns to explore. In particular ride from Creston, BC to Nelson, via the Crawford Bay ferry. Then continue to Kaslo, New Denver and Nakusp. From Nakusp take the Needles Ferry and finish in Vernon.
If you are dualsporting I would recommend checking out the BC TCAT section. It captures some of the best riding in the Province. http://graveltravel.ca/index.php?option=com_content&view=article&id=2&Itemid=20
What are the best months for riding? In most of BC we have winter (with snow), so the best months are the summer: June, July, August and September. On the coast, where I live, you can ride all year round with some warm gear but most of my riding is during the summer when I can do multi-day rides.
How does the topography of the place you live affect the kind of motorcycling you choose to do?
The mountains have the greatest impact on the kind of riding I do. The roads are twisty and the scenery is amazing. That sums up why I ride nicely.
Is it safe to ride at night where you live?
I'm not really comfortable every riding at night on a motorcycle because we are so very vulnerable and I prefer having the greatest possible visibility. We also have lots of wildlife so for that reason I would not encourage anyone to ride at night.
Is there a local motorcycling event that you try and attend regularly? Not really. I don't have a lot of time to attend group events. I usually try to attend one local dualsport riding event each year, and also attend a MotoGP race each year.
Are there any motorcycle specific laws? Yes, lots I think. Ones I am familiar with are helmet laws, noise level laws and most recently one about standing up on your pegs. http://www.pssg.gov.bc.ca/osmv/road-safety/motorcycles.htm
Are motorcyclists discriminated against in any way? The noise level one bugs me because it doesn't apply to people who play loud music from their cars, it is just for motorcycles. On more than one occasion the noise level of my bike has helped increase awareness of my presence. It's a tough balance though between increasing awareness and being obnoxious. I just want the rules applied equally to all vehicles.
I think for the most part people are very understanding of people enjoying motorcycling responsibly. Almost everywhere I go people come over to talk to me about my bike and where I am riding. I find most people to be very friendly more than anything.
Can you describe the motorcycle license test? It has probably changed somewhat since I took it but there is a written test, a slow speed skills test, and a road test. The slow speed skills test is done in a parking lot and consists of a slalom, figure eight, counter steering and emergency stop.
Are any motorcycle related sports popular where you live and do women actively participate in them? I live in a small town of about 12,000 people so there is nothing local for me. When I go on group rides, or group organised events I am usually the only women, or occasionally one of just a few.
What is the traffic like and how does it affect motorcycle riding? Traffic in BC is terrible. Cars drive slowly and are not considerate of motorcyclists. One thing I love about riding in Washington state is that slow moving vehicles actively pull over to allow bikes to pass. It is great and really helps when trying to enjoy a good road. I wish BC was more like Washington State.

How do car drivers treat motorcycle riders on the road? I think that most drivers are oblivious and don't understand how fast we can travel or manoeuvre. I think in general the skill level of people operating motor vehicles is on the decline, which only puts motorcyclists at greater risk.
Is motorcycle theft a problem? Not something that I care too much about as I live in a safe region. I think if I lived somewhere where it was a problem it would have a huge impact on the enjoyment of my riding lifestyle.
How are women motorcycle riders treated by most people and by male motorcyclists? In my experience really good. When travelling in Latin American I used to get strange looks from men, who were shocked to see me on such a large bike, but that is pretty much the reaction I was expecting. In Canada I don't feel like I'm being treated any differently.
Do you have access to high quality motorcycling gear in your part of the world? Yes, one of my favourite websites is Revzilla.com. They carry all my favourite brands.
Do female and male motorcyclists have the same amount of freedom to pursue motorcycling activities? I think so, for the most part. I think that there are certain physical constraints that impact women's freedom such as inseam length and physical strength but skill can overcome a lot of these things. Dakar racer Gaston Rahier is a good example. I drop my bike more than my husband and need his help picking it up but it doesn't really slow me down. My strategy is to know my own limits and to work within those. I think it is different for each individual, male or female.