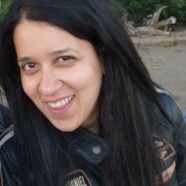 Apr

28
Tags
Related Posts
Share This
Rashmi Tambe
Ever since I started this interview series, I've had lots of people ask me more about my own path into motorcycling. So I started putting down my own answers, in part to send to future participants as an example of what their interview would look like. Putting this in words and looking up photos to go with them was quite a trip down memory lane! I was blown away when I realized that it has now been almost ten years since I first started riding! Where did all that time go? In any case, I hope you enjoy reading this as much as I did writing it.
Rashmi Tambe
Editor, Global Women Who Ride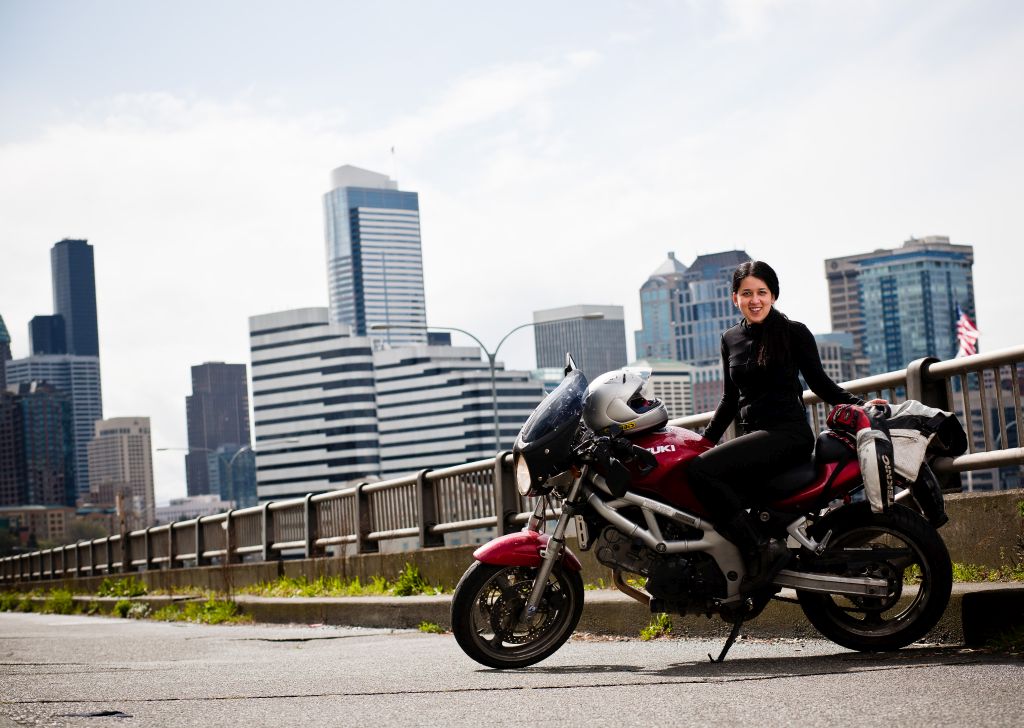 Against the backdrop of downtown Seattle (Photo by Cory Parris for American Motorcyclist)

Name: Rashmi Tambe
Age: 36
Country: USA
Languages: English, Marathi, Hindi, French
Years Riding: 8
Height: 5'
Inseam: 28"
Current Motorcycles: 2003 BMW F650CS, 2006 Yamaha XT225
Past Motorcycles: Yamaha Virago 250, 2001 Suzuki SV650, 2001 BMW F650GS
Riding Gear: Arai Quantum 2, BMW ComfortShell jacket, Motoport GP2 stretch Kevlar pants, Held Akira gloves, Daytona Ladystar boots
Average Miles Per Year: 2000
Introduction:
Hello! My name is Rashmi Tambe. I grew up in Bombay, India and I now live full time in the USA. I live in Seattle and work as a software engineer at a Redmond-based company. In my spare time I'm a writer, editor, voracious reader, runner, hiker, and of course, motorcyclist. I've been riding for almost ten years since the summer of 2005 when I got my first ever 250 cc motorcycle.
How did you get into motorcycling? 
Early on in my tech career, I had a manager who rode a Harley that was stripped down to look like a WW2 era motorcycle – paint matted down, no chrome, no mirrors, no bling whatsoever. I remember that he had cut his exhaust too so that it was obnoxiously loud.  He rode to work every day and he would occasionally tell me that I should get a motorcycle too. I didn't own a car at the time, so I decided to take his advice and bought a motorcycle – a Yamaha Virago 250, which looked like a tinier version of his Harley.
The better question would be why I stayed in motorcycling. After all, I've dabbled in a lot of things just to try them out and see if it sticks. Motorcycling is the one thing that stuck. It's the one thing that brings me joy and makes me happy to be alive. Not every time I'm riding of course. Not when it's pouring down rain, windy, muddy, or challenging in a way that's mentally taxing, although even those days I'm still happy that I'm on my bike rather than at my desk job. When conditions are good though, and I'm riding my bike down a twisty road on a sunny day, it's a gift, and I'm happy, joyous and grateful. There is simply no better feeling than blasting down a winding road, throwing the bike around corners, rolling on the throttle and feeling the power of your machine as you melt into one.
Do you have a motorcycling achievement that you take pride in?
I guess that would be some of my long-distance rides. I've ridden 3000 miles from Seattle to Alaska with my friend Sarah, 5000 miles solo across North America, and 5000 km solo around Central and Western Europe. I might be the first Indian woman to have done some of those rides. And if I'm not, can they please contact me because I'd love to meet them!
I've also been published a few times in American Motorcyclist, which satisfies me on a personal level because I've always wanted to be a published writer.
I think that if I reflect back, the one thing that I'm proud of is that having led a really sheltered life growing up, where I was confined to my home for the most part and rarely did anything even remotely "physical", I managed to get into an activity like this and got reasonably good at it. I'm the first woman in my entire extended family to ride a motorcycle and drive a car, which when you think about it, is kind of cool.

On the road to Alaska in the summer of 2008

In Lebanon, New Hampshire on the first day of my cross-USA road trip from the east coast to Seattle
What bike did you first start on and why?
I started with a 250 cc Yamaha Virago which has since been re-branded to be called a "V-Star 250". I picked a 250 because I had been advised that it was a good displacement for a beginner. Incidentally, it's interesting that 250 cc is considered to be the absolute beginner level in the US, while in large parts of the world, especially Asia, it is a "big bike" and entry level bikes are usually 125 cc or so.
The Virago turned out to be a good first bike for me. It had very few miles on it, the Japanese engineering made it a very reliable bike, it was light and nimble, and it fit my image of coolness at the time. It was fun enough to ride the 5 miles to work and back, do occasional weekend rides, and even do my first "long ride" – a whopping 400 mile loop around the Olympic Peninsula rain forest in Washington State. Like all beginner 250 cc bikes in the US, it held its value well and I got back the entire amount back when I sold it the next summer to upgrade to a Suzuki SV650. I've owned four different bikes since that little 25o.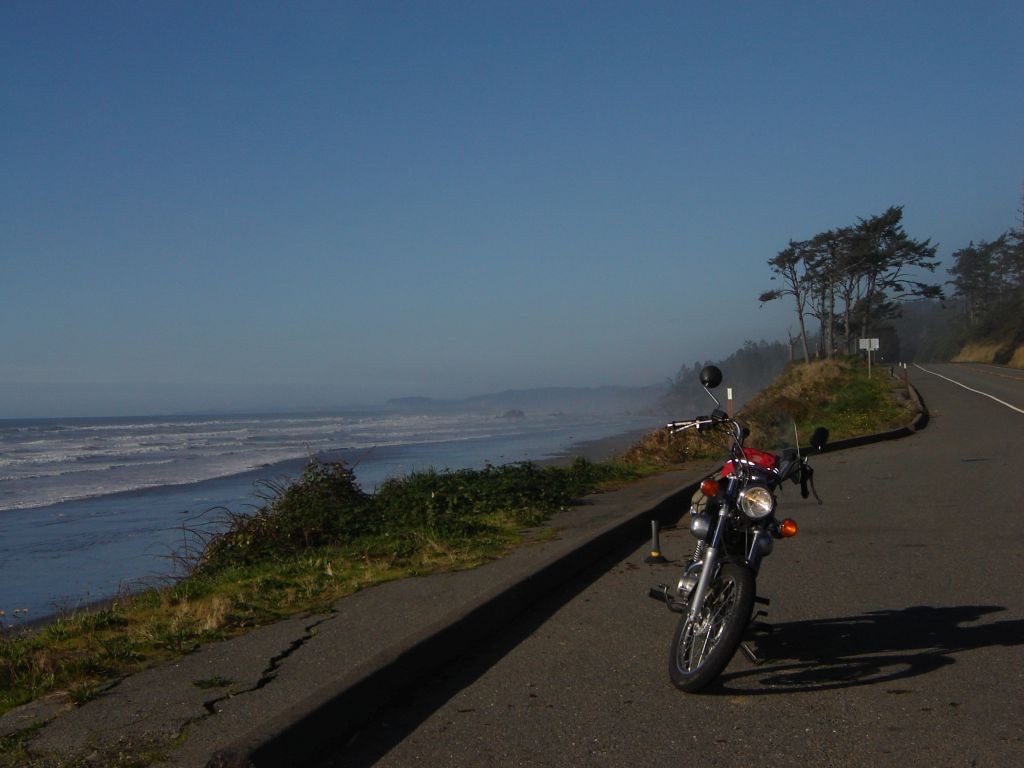 My Yamaha Virago 250 near the Pacific Ocean on my first ever long road trip around the Olympic Peninsula in Washington State
What do you ride these days?
I currently own a 2003 BMW F650 CS and a 2006 Yamaha XT 225. The BMW is a thumper that was launched and sold as a "city bike". I like several things about this bike. First, the engineering and design: it has a belt drive and a single sided swing arm. The gas tank is under the seat, which leaves a cavity where the tank usually is, for storing a tank bag. It comes stock with heated grips and a little fly screen.
Next, the aesthetics: the tank and farings are gold, which is a color you will rarely find on a motorcycle. It also doesn't look anything like other motorcycles. It's not a cruiser, sport bike, dual sport or dirt bike. It's a good bike for short riders. I like how it falls into the corners nicely. It's a good all-round commuter bike, which was my main use case for it.

On the BMW F650CS (Photo by Lucia Sanchez)

My XT 225 is my fun bike. I bought it solely because Lois Pryce rode an XT 225 across the Americas. No, really. This was (is?) supposed to be the bike I would ride across South America someday when the stars align. I believe an online motorcycling magazine called the XT 225 "the bike you want to have in case of an apocalypse". It's not hard to see why. It's a skinny and light dual sport. You sit up pretty high and upright on it. It can take any kind of road you throw at it, from pothole ridden rutted streets to forest service roads to mud and sand.
I've set it up a to be an "adventure bike" by swapping out the stock tank with a larger 5 gallon Clarke tank, adding a windshield to cut out the draft, some bar risers, and a tail rack and side racks for soft luggage. I've done one three-day back country off-road ride on it, and otherwise I just ride it around town. Of all the motorcycles I've owned, it's the only one I've had where I have a huge smile on my face the entire time I'm riding it. The downside is that it's a 225 cc so it's not really appropriate for long freeway slabs. I have no idea how Lois rode one through the North America section of her ride.

On the XT225 in North Bend, Washington
What has been your favorite motorcycle ride so far?
It's so difficult to answer this one. In my eight years of riding, I've done an awful lot of really neat rides. I've reached that magical state of zen on a handful of them. You might have experienced that too? It's that moment when you and your machine are one, moving in complete synchronicity, one curve at a time, and you're one with the universe. Is this what religious people mean when they talk about feeling close to god?
If I had to list my favorite rides off the top of my head in no particular order they'd be: riding through the Dolomites in northern Italy, the twisty roads in the Black Forest in Germany, Kompong Tham to Kompang Cham past the Mekong River in Cambodia, the North Cascade Highway in Washington, that one little twisty road between the Cassiar Highway and Stewart, the road up to Mt. St. Helen's, and this one fun  little road in South Dakota to Horsethief Campground.
My cross-USA ride was also one of my favorite bigger riders because it allowed me to see so much of this amazing country that I call home.
Do you do maintenance and repairs on your bike?
I do the bulk of my own maintenance, repair, service, installing accessories etc. So I can do your basic checking and changing spark plugs, oil changes, air filter cleaning, changing fluids, replacing parts like tires, fuel tank, levers etc.
I knew none of this when I first started riding and slowly worked my way up by taking a class at a local community college, forcing myself to do my own work with the help of a manual, working with a more knowledgeable friend etc.
I'll usually have a mechanic work on my bike if it's something that I don't particularly feel like doing, if I don't have access to garage space, or if it's something that needs doing so rarely that I don't want to spent time learning e.g. doing valve adjustments or carb cleaning.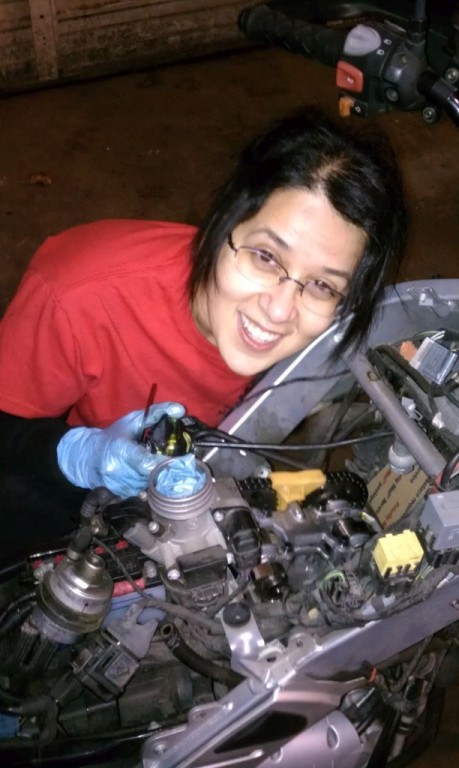 Have you formed any close female friendships due to motorcycling?
While I'm mostly a solo rider, I do meet a lot of very cool women via motorcycling and I'll occasionally go riding with them. It's a bit different from other female friendships I have in that it's the coolest thing in the world to go on a motorcycle ride with a friend, then stop and talk about the ride and bikes and engines when we're off of them. There's my friend Sarah with whom I rode to Alaska on my first major road trip. We live in different cities and don't get to see each other more than once a year, but when we do, it's like it was yesterday. No matter what your ups and downs are, a ride like that bonds you and creates a connection that runs deep.

Sarah Adkins and I at a hunter-trapper's log cabin in Slana, Alaska
What do you think would attract more girls and women into motorcycling?
More positive role models in pop culture. Depict young girls and women riding their own bikes and not as passengers. End the objectification of women in motorcycling magazines and motorcycle culture in general.
If you're a motorcyclist, envision the kind of world you want your daughters to grow up in, and then do your part in making that happen. If you're a guy who rides, take your daughter out riding as frequently as you do your son. Teach your daughter to wrench on her bikes like you do your sons. Stop thinking of women as this weird "other". Men and women have more in common than they have differences.
If you could design your dream bike, what would it look, sound and feel like?
Something that has the power of the BMW S1000RR, is low enough for someone with my inseam, and nimble and skinny enough like my XT 225.
Oh and why not add some machine gun mounts for when I get really bad road rage. While we're at it, can we make it fly too?
Do you have any advice for people who want to get into motorcycling?
If you've ever had a lingering fascination for motorcycles and imagine yourself riding someday, take a beginner class. In the US, there are two day weekend MSF courses held in most cities. Most countries have similar classes.
You might come out of the class deciding that it's not for you. Or – you'll love it and your life will be changed forever.
What legacy do you want to leave?
I am extremely passionate about women's rights. If there's one thing that I do in my lifetime, I hope it's that I make a perceptible difference in the lives of women and girls around the world. If I had to narrow that down to motorcycling – and perhaps this sounds too grandiose – I hope that people look at me and feel like they have more options than they thought they had. I want them to know that motorcycling and solo travel is accessible to everyone and that women don't have to live in this culture of fear that constantly limits their possibilities.
We live in a culture that is particularly toxic to women today where we are told from a very young age that the most valuable thing we have to offer is our looks, and that if we don't fit into this very narrow bracket of what good looking means, our value as human beings is inherently less that of the ones who got the luck of the draw. We are constantly told that certain things and places are off limits to us for no good reason than that we happen to be women. The majority of motorcycling media especially is ridiculous in the way they portray us, largely because we are a minority in this particular space.
I see signs of it changing with a lot of good people trying to change the culture, but I've always been very impatient and the change isn't happening fast enough. If the Global Women Who Ride project is successful, I hope that every kind of girl or woman – no matter what her age, race, height, physical strength, appearance and economic background –  looks at the site and sees someone who looks like her and has a whole new world of possibilities opened up to her.
I do hope that my legacy extends beyond motorcycling and adventure travel though. There is so much in the world that needs changing.
Want to read more of my riding stories? You can check out my personal blog here. :)
If you would like to be a part of the Global Women Who Ride series, please email submissions@globalwomenwhoride.com.