Jul

21
Tags
Related Posts
Share This
The Bikerni
The Bikerni is an all-woman motorcycle club based in India. Global Women Who Ride talks to some of them about their motivation behind starting the club, the rides they do together, and the sisterhood that the club fosters among members scattered all over the country. [Rashmi Tambe, Editor]
Please introduce yourselves.
The Bikerni is India's first and largest all-women motorcycle association. It began on January 15, 2011 with around 14 members. As long as you are a woman who is passionate about riding motorcycles or wants to learn, you are most welcome to join The Bikerni. The Bikerni first chapter began in Pune. Now we have chapters all over India – Mumbai, Delhi, Kulu-Manali, Mysore, Bangalore, Chennai, Hyderabad, Bhubhneshwar, Lucknow, Kolkata, Guwahati, Jaiput, Kutch, Ahmedabad, Surat and Rajkot.
Why a women-only club rather than a co-ed one?
There are and will always be a lot of men only or co-ed clubs with one or two women, but we wanted to start a movement that would bring respect for women bikers and our passion. Some women were more comfortable riding with other women and we catered to that. We also wanted to experience the joy of going on all-female road trips and to be a support system for women who wanted to learn how to ride.
Are there any formal bylaws or rules?
Members start off as a prospect, then an initiate, and they must complete three rides to be officially inducted. If they miss out on three consecutive rides, they are put on a defaulters list. Continued absence invokes expulsion from the group.
How diverse is your member base?
We have members ranging from the ages of 17 to 54. They come from different background such as home makers, working women, as well as students. They ride right from 100 cc to 1700 cc motorcycles. We have a very open policy so women from all backgrounds feel comfortable to join and ride with fellow Bikernis.
How do you recruit new members?
It's all via social media updates as well as through ride invites and word of mouth.
My husband is from a club which doesn't give much room to women bikers and now it's nice to be in a community which makes you feel safe and secure." – Pallavi Parvatkar, Bikerni Pune Chapter
Have you ever had to ask a member to leave for any reason?
We have asked members to leave due to irregular attendance and lack of dedication. This is extremely rare though.
Do you host any regular events?
We have chapters in every city headed by an administrator who manages the members of her chapters and assigns Road Captains for every ride. Every city has one ride per month at the least and every three months there is a zonal meet which is an overnight weekend ride. We are divided into four zones and every zone has a moderator. Every year we have two major All-India Bikerni rides, one is for the anniversary and one is for the International Female Ride Day.
Is there any advantage to having a formal riding club vs. informal group rides with friends?
Formal riding clubs are safer to ride with as there are dedicated road captains and sweeps who take care of the entire group. We have technical support as well as medical support in case of emergencies and best of all is that everyone in that group speaks the same language.
Do some of the members belong to co-ed clubs? 
The Bikerni allows members to be a part of other riding clubs in case of cities where only one or two Bikernis are present. Girls who are part of other clubs always say the same thing. Girls are more fun to be with, the level of comfort is much higher, there are no airs and graces, there is no garage talk in women biker rides and meets, its always about journeys made and the fun experiences and about bonding emotionally.
"It built up my confidence when I was encouraged to lead the biker community in my city and now I feel inspired and confident." – Roshini Miraskar, Bikerni, Banglore Chapter:
Can you talk about any memorable rides your club has done? 
We recently had an an anniversary event where around forty of us from all over India rode to a pre-decided location and we shared travel stories, had a lot of fun playing biker games, and rode to scenic locations together. Apart from this, our groups have ridden to the Himalayas and to the South. Since we have chapters all over India, we keep heading out on great rides.
Do you do anything to encourage young girls to get into motorcycling?
We have city meets which they can join so that they can meet with Bikernis. We have short rides planned which they join on non-geared two-wheelers or as pillions so that we can give them a feel of motorcycling.
Any advice for women who want to form their own club? 
Please form it with a purpose to really encourage and not with an ulterior motive such as quick step to fame. Be patient with every women who approaches and make her feel at home right from the start. Set up your rules and guidelines and a core team of trusted members at the start so that processes fall into place easily. Please do share responsibilities as it gets quite tasking later. Have lots of introduction rides and meets, technical as well as first aid workshops and if possible provide training to women who want to ride.

"The Bikerni gave me a sense of purpose and belonging." – Shubhangi Ghadge, Bikerni Mumbai Chapter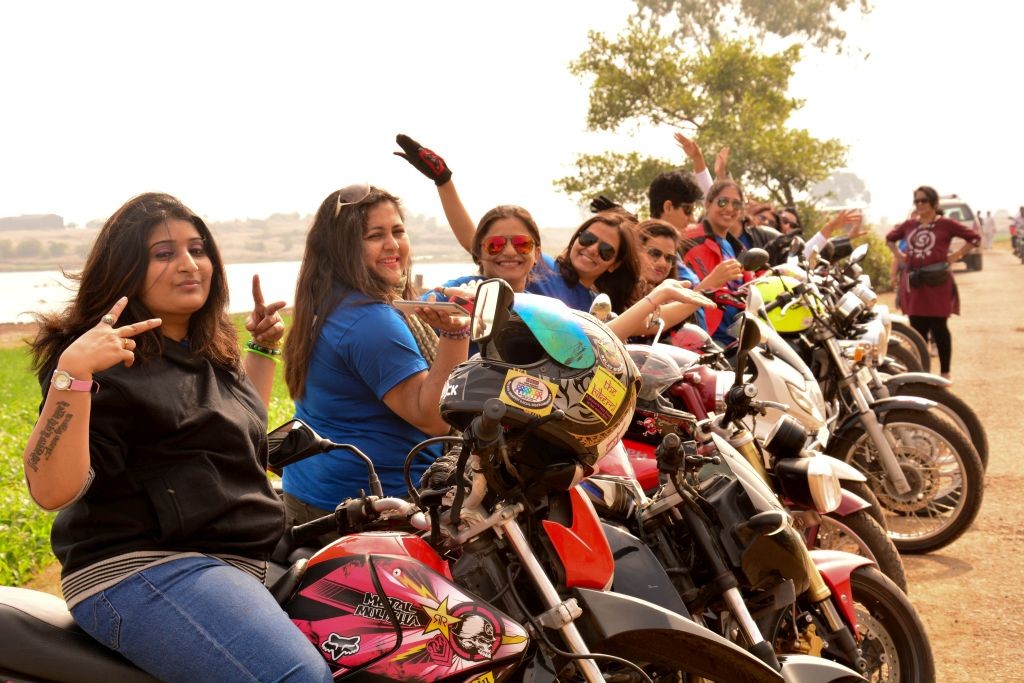 Follow The Bikerni at https://www.facebook.com/TheBikerni
All content on this page is copyrighted to Global Women Who Ride and cannot be reproduced in any form without written permission from the owner. Email admin@globalwomenwhoride.com for permission..