Apr

22
Tags
Related Posts
Share This
Lilian Hobbs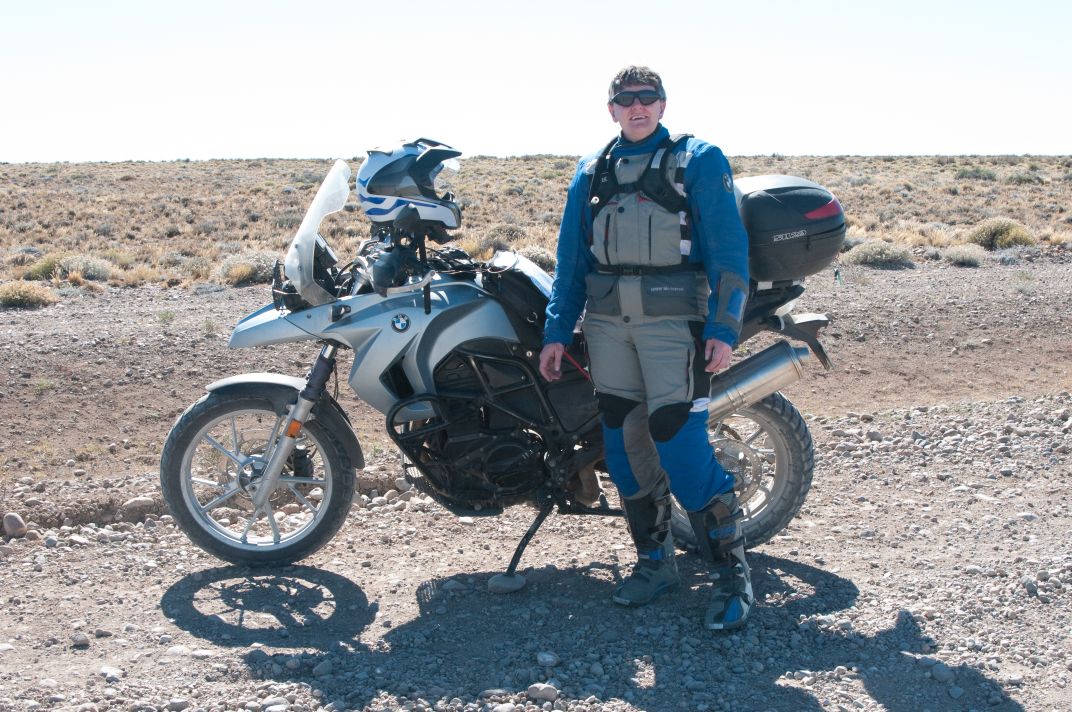 Name: Dr. Lilian Mary Hobbs
Age: 55
Country: United Kingdom
Languages: English
Years Riding: 6
Height: 5' 6"
Inseam: 31″
Current Motorcycles: BMW K1300R, BMW 1200GS, BMW 650GS, Kawasaki  KLX250
Past Motorcycles: Honda 600RR, Honda Deauville. Honda CBR125R
Riding Gear: Winter – Rukka Jacket & Trousers, Daytona Ladystar GTX boots, Rukka Gloves, Schubert Helmet , BMW Waterproofs, Gerbing Heated Jacket; Summer  – BMW Ralleye Suit, Daytona Boots, Ralleye Gloves, Aria Tour X-4 Helmet
Kms Per Year: 10-20,000
Please introduce yourself. I am a computer database specialist which I entered by accident because a careers advisor heard about this new course called computer science. He didn't know what is was, but thought it might be useful. The rest as they say is history. 35 years on and I am still working on computer databases. I have written books on the subject, presented at major conferences and travelled the world fixing some well known computer systems.
I love to travel and take photographs and when I am home I have some telescopes in a dome where I take photographs of deep sky objects like galaxies. Astronomy is my other big passion.
How did you get into motorcycling? I developed an interest in motorcycles, which were banned in our house, because I love to ride bicycles but was finding that I couldn't go very far and I wasn't as young as I used to be. Then I learnt that motorbikes got free parking in my local town and that made me find out how to pass the motorcycle test.
What bike did you first start? I bought a Honda CBR125R because that is the largest cc you can ride on a learner license in the UK.
Describe your current motorcycle. I am a big fan of BMW motorcycles which is why I have several. My K1300R is fast and heavy and I keep that for fun days out and when I am giving advanced motorcycle training. The BMW 1200GS use to be my touring bike until I rode across North America twice on a BMW 650GS. Its light and nimble but I still can't pick it up.
Do you have a motorcycling achievement that you take pride in?
I hold the RoSPA Diploma in Advanced Motorcycle Instruction which is not easy as there is a half day of exams including a 90 min written test.
You have to ride to RoSPA gold standard which is considered one of the highest civilian UK motorcycle qualifications and then detect faults in the examiner's ride as he plays the associate role.
Before I became an advanced instructor, there was a small minority of men who didn't say nice things about my riding. The vast majority were supportive and gave me huge encouragement and I was delighted to pass my advanced instructors course and prove the minority wrong.
Have you done any long distance road trips?
Although I haven't been riding for very long, I have done quite a few trips. My first was to Wales for the weekend which got me hooked, and then over to Belgium and Germany. Then it was around the South Island of New Zealand, down to Ushuaia in South America, across the Himalayas in India. I think my favourite was my trip across North America.
Crossing the USA twice was amazing as we met some lovely people and saw lots of amazing sites. The Alcan or Alaskan Highway is a great experience and I will never forget turning a bend and meeting a black bear and a moose. Before the trip I had heard about moose, but never seen on. In Alaska I saw 9 of them.  
Do you have any motorcycling heroes? Not really but I do have a lot of respect for Lois Pryce because she doesn't get sponsors and does it all herself without any support.
What's your favorite motorcycling story? We stopped at a petrol station in Casa Grande in Arizona in the USA and a guy spotted our British flags and came over to speak to us. It turned out that he owned a motorcycle garage and when we told him that Wendy had lost the lid off her panniers he offered to make us one.
Watching Chuck make one from a sheet of metal was like something out of a reality TV show. He had never done it before and the photo of my bike being serviced with by this mechanic wearing a gun is one of the memorable photos of that trip.
Do you have any advice for people who want to get into motorcycling? One of my missions is to get more ladies riding motorcycles which is part of the reason I became an instructor. There are so few of us around and ladies often need to be taught slightly differently. My advice to ladies is to not be bullied into a big bike, get something you are comfortable with and if you are short get the Daytona boots which make you one inch taller. I swear by mine.
Start on a small powered bike and once you have confidence progress to something larger. Just remember you can do it. If you can ride a bicycle you can ride a motorbike.
RIDING IN THE UK
If I were to visit you and we went riding for one morning, where would you take me? I live on the south coast so it would have to be a run down to Swanage in Dorset for fish & chips. We would ride through the New Forest and take the Sandbanks ferry down to Swanage.
Our fish & chip restaurant is right on the beach and we get a great view of the Jurassic coast from the restaurant upstairs. On our return home, we would pass the remains of Corfe Castle, wind along the country lanes back to the Sandbanks ferry, before a ride through the back roads of the New Forest where we are sure to see some of the famous ponies.
What's the best part about riding in your country? People may moan about the weather in the UK but we are so lucky that we can ride all year round and it's not usually very hot or cold. We have a nice variety of roads and lots of great country lanes with lots of bends, oh and some nice scenery along the way.
What are the best months for riding there? It can be a bit cold, which usually means it's freezing between December and February. I live on the south coast so we don't usually get snow but further north it does snow in the winter.
How does the topography of the place you live in affect the kind of motorcycling you choose to do? There is little opportunity to ride off-road around me so my riding is on the tarmac. We do have a system of byways which are tracks where motorized vehicles may go. Unfortunately many of them are being downgraded to walkers and horse riders only.
Is it safe to ride at night where you live? Yes, completely safe. Many of the roads have good lighting.
Is there a local motorcycling event that you try and attend regularly? I belong to the local IAM (Institute of Advanced Motorists) group for whom I am a National Observer and we hold regular meetings with guest speakers and weekly rideouts. My RoSPA group also holds a monthly rideout and we have a café called Loomies, on the A272 which is often voted top road to ride where lots of bikes meet.
There is also the annual Horizons Unlimited meeting which I like to attend and present slideshows about my trips.
Are there any motorcycle specific laws?
In the UK you can ride a motorbike up to 125cc on L plates for 2 years if you pass your CBT, which is a 1 day course. Passing your test is a bit more complex as there are restrictions on what you can ride depending on your age. All riders must wear a helmet. 
Are motorcyclists discriminated against in any way? I don't think we are discriminated against but there are lots of drivers out there who don't like bikers. 
How do the police treat motorcyclists? I think we are treated the same. If anything, they may be nicer to you because many of them are bikers themselves.
Are any motorcycle related sports popular where you live and do women actively participate in them? The world class motocross track Matterley Basin near me attracts riders from around the world!
What is the traffic like and how does it affect motorcycle riding? The UK is a small island with a population of 63 million. Sometimes I think they all own a car. Traffic congestion is a major issue and our narrow roads often mean that even a motorcycle can't get through. However, get away from the cities and we have lots of amazing roads with great bends.
How do car drivers treat motorcycle riders on the road? Some give way and make room and others deliberately try to block your path. Most I think don't even notice us until we go past. 
Is motorcycle theft a problem? Yes it is a problem. It is not uncommon for someone to turn up and lift your bike into a van. I use an approved disc lock on my bike whenever I leave it anywhere and many lock their motorcycles to special posts to stop them being lifted. 
Do you have access to high quality motorcycling gear in your part of the world? Yes, good quality gear is not a problem to find. The problem I find is that there isn't the choice for ladies and one day I will find lady size gloves.