May

12
Tags
Related Posts
Share This
Nichele Weatherford
From sunny California, we have Nichele Weatherford who rides both a 2 wheeled *and* 3 wheeled motorcycle. I know very little about the latter type of bikes, so this was a pretty interesting interview for me to do. Nichele rides locally and long-distance on her two hot pink bikes. And speaking of California, I'm sure most of us American riders are just a little bit jealous of our fellow riders who live in this state where the weather is always beautiful and lane-splitting is not illegal. [Rashmi Tambe, Editor]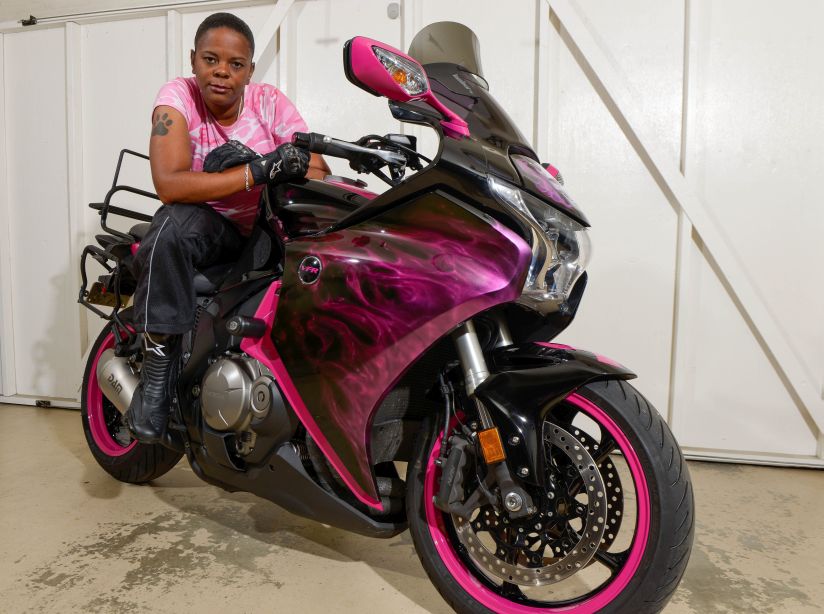 Name: Nichele Weatherford
Age: 39
Country: USA (California)
Languages: English
Years Riding: 6
Height: 5'7
Inseam: 30
Current Motorcycles: 2012 Honda VFR 1200F
Past Motorcycles: 2008 and 2009 Can-Am Spyder RS
Gear: Schuberth helmet, different brands of jackets, Draggin Jeans, Alpinestars , Aerostitch gloves, Icon and Alpine Stars boots.
Miles Per Year: 10,000
Hi Nichele, can you introduce yourself? My name is Nichele Weatherford, but everyone calls me Nikki. I am the youngest of two children. I have an Associate of Science in Electricity. I work at the Department of Water and Power in the city of Los Angeles as a Public Officer.
When I am not riding my motorcycle I am traveling all over the world. I am preparing for an Alaskan Cruise this summer for my birthday. I have been to Fiji, Mexico, The Bahamas, St. Martin, Hawaii, and some other states in the US. I scuba dived in Fiji and loved it so much that I got certified last September here in California, my friends call me a adrenalin junkie. I am trying to see as many things as possible on this earth as I can. I also own a 7 year old 100lbs male Rottweiler dog named Shane. I am into photography. My Facebook page is filled with photos I took with my Nikon D7100 camera.
Can you describe your path into the world of motorcycling? I think it was just fate. My sister's father had bought her a Yamaha 80. I was 7 years old and she was 15. I was great at riding my bicycle and wanted to ride her dirt bike so she showed me how in our big back yard at my family home.
My first motorcycle was a Can Am Spyder. I was still intimidated about riding a two wheel motorcycle even though I did get my M1 on my license years before.
I was usually speeding when I was riding my Spyder and some people would call me the "Pink Blurr". When we would have group meetings before rides and the leader would say we are going to take it nice and slow up the mountain, most people would look at me because I usually didn't do the speed limit. I would then say "I am going to be good today, leave me alone". I finally stopped riding the Spyder because the seat is so wide it was hurting my hips, and traffic got to be very congested.
I had thoughts about riding on a two wheeler while I owned the Spyder. I got more and more comfortable with the thought of being on two wheels instead of three. I picked my current motorcycle – a VFR 1200 – because it has a comfortable seating position, I can do long trips if I want and not get too tired, and attach hard bags for storage.
I am still so amazed at how much I enjoy riding my motorcycle. It is definitely my de-stressor in life. The feeling I get while I am riding is like no other. I feel the rush of being on a machine so powerful yet I feel so comfortable on it. I have a true passion for riding that not all people have. I am glad I live in California because it allows me to ride year round. I think I would be very stressed if I had to keep my bike in my garage for a few months until weather was warm enough to ride. It's hard for me not to be on my bike for even a week. When I leave on a vacation without my bike, the first thing I want to do when I get back is take a ride.   
You've ridden both two wheeled and three wheeled motorcycles. Can you discuss your thoughts about both and how they compare with each other? The feeling that I get from riding both of them is pretty much the same. I love the open air and they are both definitely stress relievers for me.
The difference comes into play when operating the two. The Spyder is a bit restrictive in certain areas but definitely easier to ride. With the highway pegs I had on it and not having to balance, I think I can ride the longest on it. I rode to Albuquerque, NM from California only stopping for gas and food. That won't happen on two wheels. Going crazy on the Spyder in the canyons is definitely easier to learn. I didn't worry about dirt and gravel on the ground like I do now. It has a reverse to back up. On two wheels it's my two feet that have to make the bike move backwards, and with a bike over 500lbs, that is not always an easy task.
Riding on two wheels takes much more balancing and leaning. I like leaning into the corners more on two wheels. Since California is the only state in the US where motorcyclists can split lanes through traffic legally, being on two is great in stop and go traffic, but also more dangerous with auto drivers not paying attention to what they are doing. I have gotten stuck in traffic too many times on Spyder in 80+ temperatures, and it isn't fun.
Besides traffic congestion, I switched from three to two wheels because Spyders seat is so wide and I have a problem with the way my hip bones are shaped. I have sat on some two wheel bikes that had seats just as wide as Spyders, so that is why I chose the Honda VFR 1200F. The leg room is almost the same as Spyder and the seat is narrow. After adding some Heli Bars on the Honda, I am not leaning forward as much and my back feels no strain.
The only time I don't like to be on two wheels is when it is windy, I would rather ride in the rain than wind. Because of the different operation of the bikes, I am selling my Spyder so I will only be on two wheels. Retraining my brain every time I ride a different bike is to crazy.
Your bikes are both painted pink, which isn't a stock paint job. Can you talk more about how you customized them? When I first got Spyder it was silver and black and most people thought I was a man when I was on it. So I quickly came up with painting Spyder black cherry and hot pearl pink. The idea that it was a female on the bike didn't sink in until I started wearing a pink and black jacket and pig tales on my helmet. It is a Can-Am Spyder, I had to stay with a spider theme so of course I named it Black Widow, which is on both sides of the bike.
Since two wheeled motorcycles are mostly ridden by men, it was the same scenario all over again when I bought my Honda in August of 2013. So I came up with the skull with pigtails, flames, and a breast cancer swoop to show that I am a supporter, all done in hot pink and black to say that it belongs to me. I like to customize everything I own, I think it is an extension of who I am. I also like to be different. No vehicle I have had has felt like it was mine until I changed it to my liking.
What is your favorite type of motorcycle riding? I love riding in the canyons and along the coast on a nice sunny day. I love the open road and the feel of the bike. Leaning in the corners is addicting for me.
What was your first long road trip? My first long motorcycle ride was to Las Vegas, NV with a group of Spyder riders. We stayed in Las Vegas and rode over to Laughlin, NV for the Laughlin River Run Motorcycle Show. It was an adventure.
How do you keep your skills sharp?
Every time I get on my bike I work on my skills of knowing my bike and how to maneuver it safely in the event of an emergency.
Do you like riding alone or with other people?
I like riding with people and without, just as long as I have my music playing in my Bluetooth helmet, I am happy.
Do you do track days or race? I did my first track day ever when I bought the bike I have now. It was very intimidating for me at first, but I got used to it quickly and really enjoyed it.
Have you ever been on a motorcycle ride when everything went wrong? Yes. On a group ride from Las Vegas to Laughlin we got caught in a sand storm, and I burned out my clutch all in one day. It totally stressed me out because it was my first real long trip. Luckily my Spyder mechanic was there with us on the ride and showed me how to ride my Spyder without really using the clutch to shift.
Have you ever had a motorcycling accident? I cringe when I think about it. I did have an accident riding home the first two wheel motorcycle same model I have now. I didn't think about the fact that I hadn't ridden a two wheeled motorcycle in 9 years and probably need a refresher, I was just so happy about the new bike. I regret just jumping on the bike and riding, I fractured a rib, and hurt my ego. I didn't let that stop me though, I got another bike a month later. I had a friend ride it home for me, then take it to a big parking lot to coach me until I felt comfortable enough to ride it on the streets safely.
Does your family support you riding? My mom would like it if I stopped riding, but she knows that will not happen.
If you have or plan to have kids, would you want them to be motorcyclists?  I don't plan on having children but if I did I would want them to ride if they loved it as much as I do.
Are you part of a motorcycling club? I am joining one now called Total Package MC. I rode with them some years ago. I used to work with one of the ladies when I worked at LAX. I have chosen this club because they are more about the sisterhood and the riding and none of the drama.
Have you formed any close female friendships due to motorcycling? Yes, I do have more female friends now because of riding motorcycles. Most women say to me "You go girl!" when they see me on my pink motorcycles, I think because of it being a mainly male dominated hobby. The times have changed now though, there are definitely more women riders now on the road even since I bought my Spyder in 2008. The days of women only being a passenger are long gone. So many women like me now are customizing there bikes also, it is a good feeling when women have the best looking bikes at bike nights. A lot of men feel intimidated by us. We like it though.
What do you think would attract more girls and women into motorcycling? Talking to more of us that do ride, letting them see that we had the same fears they do but overcame them.
What would your dream garage contain? The VFR1200 I own now, a dual sport bike I can take off road and a lighter bike for fun in the canyons.
RIDING IN CALIFORNIA
If I were to visit you and we went riding for one morning, where would you take me? I would take you to Angeles Crest to a part called 9 mile. It is called 9 mile because for nine miles there are no turn offs, driveways, or connecting streets. It is nine miles of nothing but nice curvy roads to enjoy with worrying about another driver pulling out in front of you.
What's the best part about riding in California? I love living in southern California because I can ride year around no problem, and it is the only state in the USA where I can visit all the types of different weather in one day. From beach, desert, snow, forest to mountains without crossing the state lines.
What is the traffic like and how does it affect motorcycle riding? I think here in California we are considered a nuisance to most drivers who don't understand motorcycle riding. California is the only state in USA where motorcycle riders can split lanes legally, and some car drivers hate it and sometimes don't want to allow us to pass them.
What are the best months for riding there?
In my opinion I like to ride in the months when the temperature is between 65 to 70 degrees and sunny outside, but that time could be almost any time of year here in California. I don't like to ride too much in March and sometimes in April because we tend to get a lot of windy conditions during those months, so it is hard to enjoy riding when the wind is trying to blow me off my bike.
How does the topography affect the kind of motorcycling you choose to do?  I can do both street and off road here.
Is motorcycle theft a problem?
It is a big problem for most people here in CA, I personally don't worry about my bike to much until I am riding on vacation away from home. When I am home I park my bike in my garage, with my 100 pound Rottweiler patrolling my yard.
Is it challenging to ride in the area you live in? It's challenging because we have so many motorcyclist being killed because of people driving cars while drunk, talking on cell phones, and just not paying attention to what they are doing.
How popular are motorcycle related sports? They are very popular, some are more popular in some states than others. Women have been getting more into the sports now in the last 10 years. We now have women in stunt riding, drag racing, and our own dirt Moto Cross of women only riders.
How are women riders treated in your part of the world? The month of May is female rider awareness month so there are a lot of all female rides during the month. Most people think very highly of female riders.
Do you have access to high quality motorcycling gear in your part of the world? I can get any type of gear that is manufactured anywhere in the world sent here. owever to me there still is not enough clothing made specific for women by any brand in the world. It is still a male dominated sport.
Are there any motorcycling activities that you would like to do but cannot because you are a woman? No, I think women have been breaking into all different types of motorcycling. The sky is the limit.
Is it safe to ride at night where you live? Yes it is safe, but you do have to watch out for drunk drivers more at night.
Is there a local motorcycling event that you try and attend regularly? I try to go to bike nights in my area on my nights off. I go to the big International Bike Show every year in December. MotoGP does not race here in CA but there is another racing league I can see race here at some tracks.
Do you have any advice for people who want to get into motorcycling? Don't let your fears stop you, it is really a nice sport.
Do you think you will ever stop riding? I want to do this as long as I am able to do it safely.
NICHELE RECOMMENDS
Movie: Biker Boyz
Magazine: Women Riders Now
Professional Rider: Marc Márquez