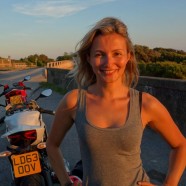 Jul

23
Tags
Related Posts
Share This
Maria Dalla Cola
Maria Dalla Cola is an Italian Ducatista who lives in the city of London. She has two gorgeous Ducatis – a Panigale 899 and a Monster 696 which she rides around the city and on longer trips, most recently on a trip to her native Italy. She talks to us here about the moment she was hooked forever when she sat on her first bike and heard the sound of the engine, of what it's like to ride in a big city like London, her heroes, and of course, her passion for Ducatis. [Rashmi Tambe, Editor]
Name: Maria Dalla Cola
Age: 34
Country: United Kingdom
Languages: English, Italian, Spanish
Years Riding: 2
Height: 5.5 ft
Inseam: 76.5cm
Current motorcycles: Ducati Monster 696, Ducati Panigale 899
Past motorcycles: None
Riding Gear: Shoei Kiyonari, Dainese Racing Leather Jacket, Kevlar jeans or Alpinestars leather trousers, Daytona Ladystar boots and Alpinestar gloves
Average Miles Per Year: over 1,000
Please introduce yourself. 
Hello! My name is Maria, I'm Italian and grew up in Milan but I moved to the UK when I was 27 years old. I now live full time in London, where I work in advertising for a multinational media agency.
I always loved to challenge myself and I'm curious about new things. Since I was a kid, I have been cycling, skating, skateboarding, tree climbing and trouble making. I consider myself an irreducible tomboy. In my spare time I love listening to music, reading good books and spending time outdoors.
Describe your path into motorcycling. I always liked motorbikes, finding them fascinating machines, although I'd been riding scooters for most of my life. Until one day I randomly ended up in a Ducati store in London. I don't know why, it was probably 'the right time' , but there and then I decided I have to get my motorcycle licence.
At that time I still didn't know what to expect and even thought I might have not liked riding a bike… but as soon as I sat on one and turned the engine on, booom, I understood that motorbikes would chang my life for ever.
On my first day on the Ducati, it was raining and I was in a courtyard with my instructor who was showing me how to sit on the bike, pull it upright, take the side stand off and turn the engine on. My heart was pounding. I never felt so excited in my whole life.
The feeling of freedom and empowerment I have when I'm on my bike is something unique. No matter what the weather conditions are, where I'm going or what's happening in my life….all the troubles, thoughts and worries just can't catch me when I'm riding. When I'm on my bike I am truly happy and I cannot imagine my life without it.
What bike did you first start on and why?
Ducati. Because I love them, I always did. I love the look, the design and the rambling sound. I truly believe I was born a Ducatista. I wanted the Monster to start with, and I learned to ride  motorbikes on one.
Describe your current motorcycle and what you like about it. I have two bikes now, the Monster 696 I bought when I passed my test and my new addition to the family, the Panigale 899.
The 696 is my daily 'companion' and probably the bike I love the most. It's low, light and easy to ride. I feel like I'm out with an old friend I can trust completely, 'cause "she won't let me down".
The Panigale is completely different; is taller, slightly heavier and more aggressive; the engine is bigger and more responsive, so needs a bit more experience in handling it. However, once one gets use to the different riding position and heavier  and more responsive clutch, the bike is an absolute jewel and a precision machine when it comes to corners.
Do you have a motorcycling achievement that you take pride in? When I started, the first bike I was on was a little Yamaha 125. After only one day of training though, my instructor put me on the Ducati Monster 696 and suggested to continue the course and do the tests on it. Everyone was absolutely against that choice, recommending to continue on the easier 125, avoiding an extra challenge with such a big bike with limited steering….but, as I said, I love challenges and went through the whole course on the 696. Even the examiner complimented me for the 'brave choice'.
What's your favorite motorcycling story to tell others? My first track day, 20 minutes ride around Brands Hatch. I had only 8 months' riding experience at that time and it was absolutely terrifying to be on a race track with other 40 people overtaking on both sides…but I gave absolutely my best and did think I was pretty fast on the straight lines. Until my instructor and friend showed me the video he took from the boxes, which are opposite the longest straight line of the track….it looked like I was going at 30 mph compared to the others!! It hurt a bit at the beginning, but the story makes me laugh now….after all, it was my first day on a track and only few months of riding, so I did well and without coming off.
Have you done any long distance road trips? The longest I went so far in one day was Devon from London and back, which is about 250 miles. I am currently preparing for London to Misano, Italy, this summer. I am studying the route and trying to organise each day's journey as much as possible. It's my first long trip and sometimes I get a bit nervous about it so I try to be prepared in advance. I am also organising my very small luggage. It might sound crazy but having to stick two weeks' worth of clothing in a small  rucksack is quite a challenge  for a girl! :) I will be filming the trip too. I plan to edit the video and post it on the blog once I'm back. I will also keep a daily journal.
Have you made any close female friendships due to motorcycling? I already knew my friend Romina, but we've never been so close as when she also got her licence and a motorbike to follow me on. We ride together very often and are constantly in touch to share news, suggestions on products, clothing, experiences etc. It's great to share such a passion with a friend.
Do you do maintenance and repairs on your bike?
I do the basics; clean chain and re-lube it, check tyre pressure and change oil. I changed tail tidy (the number plate holder and the rear indicators), indicators, tax disc holder…little things. The rest I would leave for the mechanics to do.
Do you have any motorcycling heroes? Carl Fogarty because he's the greatest WSB racer of all times and he was particularly successful with Ducati. And Barry Sheene for his awesome personality, total passion for riding bikes and that attitude, that craziness that I just love seeing in people and that I think makes the difference between being just a good racer and being an outsider.
Do you have any advice for people who want to get into motorcycling? Just do it! No matter how short, tall, big or thin you are… don't let anyone tell you you can't.
RIDING IN THE UK
If I were to visit you and we went riding for one short morning ride, where would you take me? I would take you up to Box Hill in Surrey, just an hour ride from central London.  The view on the surrounding countryside from the top of the hill is breathtaking and has become quite a common meeting point for a lot of bikers. The road that takes you up there is also good fun, a lot of turns in the middle of beautiful nature. [Route]
What's the best part about riding in your country? I think England has some of the best roads in the world. The tarmac is very good and lanes are usually wide enough to allow anyone to enjoy any ride without too much stress. And I'm talking about country lanes! :) As everyone know, this part of the world is not the hottest and driest but I think this has also its benefits…it's never too hot to enjoy your ride on your bike and, due to copious rainfalls during the year,  the scenery is always so green and lively, with very high levels of oxygen. I love slowing down, opening my visor and breathing the fresh air that smells of trees, and green fields….
About London specifically, I would probably say that the lack of parking is challenging. I come from a country where one can park anything on two wheels on pavements as long as the bike doesn't block people. This is utterly forbidden in the UK and motor bikers can only park in designated areas called "motorcycles solo only". As you can imagine there aren't many of them in town and they get full quickly, so it's always a bit tricky to park your bike and a bit of advance planning is always recommended.  
What kind of food can riders expect to stop for on the way?
Pub food! :) Burgers with chips, roast beef with veggies and gravy (typical English brown sauce to go with meats) or fish and chips.
If a motorcyclist from another country visited your country, what are the top rides you would recommend?
I would recommend going towards the coast, pointing towards Portsmouth and then just randomly pick a town on the sea to stop for a cup of coffee with sea view….
[Route]
How does the topography of the place you live affect the kind of motorcycling you choose to do? I think the UK is pretty much a place that welcomes every kind of motorcycling.
What is the traffic like and how does it affect motorcycle riding? Traffic can be very bad but only in the city centre and and the main roads that take you there. Driving is civilised in this part of the world and motorcycling is well respected, so it is quite easy for a biker to move around even during peak hours.
What are the best months for riding? From April to August, spring and summer. Temperatures rise and it's the driest time of the year.
Is it safe to ride at night where you live? As much as during the day.
Is motorcycle theft a problem? Yes it is, in central London particularly. Riders are responding by using heavy chains to lock down their motorbikes and, on some bikes, with the installation of GPS devices.
Is there a local motorcycling event that you try and attend regularly? The Ace Cafe and its events are probably the most popular but I don't go regularly. I tend to stick more to riding with my closest friends or enjoy it by myself.
How are women motorcycle riders treated by most people and by male motorcyclists? We are respected and treated as well as our male fellow riders… maybe even better I'd say!
MARIA RECOMMENDS
Books: Zen and the Art of Motorcycle Maintenance
Movies: Why we ride
Magazine: Motorcycle News
Professional Motorcyclist: Marc Marquez
Female Motorcyclist: Maria Costello