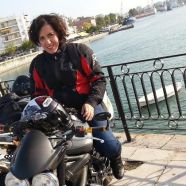 Nov

21
Tags
Related Posts
Share This
Krystallia Kalachani
Global Women Who Ride continues to bring you a new rider from a different part of the planet. Today's motorcyclist is Krysta Kalachani  from Athens, Greece. She rides a Triumph Street Triple R 675 around her city and on long rides. She also explores Greece on her Honda CRF dirt bike. Join her as she shares her experience of bringing her first bike home, riding the paved and unpaved roads of Greece, and of what riding in this Mediterranean country is like. [Rashmi Tambe, Editor]
Name: Krystallia Kalachani
Age: 36
Country: Greece
Languages: Greek, English, Italian, French, Serbian
Years Riding: 6
Height: 175 cm Inseam: 83 cm (32.6″)
Current motorcycles: Triumph Street Triple R 675cc and Honda CRF L 250cc
Past motorcycles: Aprilia Strada Factory 660cc
Riding Gear: Dainese, Revit and Rukka Jackets, Arai "chaser" helmet, Shoei XR 1100 Helmet, Suomi Vandal Helmet, Fox Helmet, Fox gear (dirt gear), IXS (leather gear), dainese gloves, Sidi, Dainese, Revit and Ixs boots
Kms Per Year: 10000 km
Please introduce yourself.
My name is Krystallia (I go by Krysta) and I live in Athens, Greece. I was born in Athens. I lived in London for a year or so in the 80s and then in Thessaloniki, Greece for all my high school years. After high school, I moved to Bari, Italy. I studied Biology at the University of Bari for five years but had to quit my studies and return to Thessaloniki because my dad got sick and passed away. I returned to Thessaloniki where I studied Foreign Affairs and International Relations, and moved to Athens in 2006 for work and an M.A on PR and Communication. I  have lived in Athens since then and I am currently owner of two wholesale companies for packaging and stationery products with my significant other (who also rides). I write for a blog about citizenship, called "Politis" : http://politis-dukakis-center.act.edu .
My hobbies are motorcycling, reading, writing for "Politis", doing Pilates and yoga, and traveling. I used to have a car but I sold it to buy a motorbike.
Please describe your path to how you got to where you are with motorcycling today.
I dreamed of riding a bike since I was a little girl but my father subtly nudged me towards four wheeled vehicles because he was afraid that I would get hurt on two wheels.
I think I was around 12 or 13 years old when one of my dad's friends came to visit us with a Yamaha Virago and he took me for a small ride around the area where we used to live. It was one of the happiest days of my life. If I close my eyes I can still feel that wind on my face. And then there was was another of dad's colleagues who owned a Harley and came to pick him up with the bike to go out. I was in awe of the bike! I heard the sound of the Harley even before my dad realized his friend had arrived and I remember running up the stairs of my house like crazy to go outside and see the bike. I have these memories really cherished in my heart.
When I was 18 (the legal age to drive a car and a < 250 cc motorbike at the time), I asked him if I could take the motorbike tests along with the car tests and have a motorbike to drive. He said to me "No. I am offering you four wheels (he meant my grandpa's car) and you want two?" And I simply replied, "Ok get me two bikes then and I will still have four wheels". As you can imagine, I drove my grandpa's car for quite a few years after that discussion.
My dad taught me how to drive a car when I was 12 and he made me promise to him before his passing away in 2002 that I would sell the bike he owned back then and I would not ride it at all (a Honda Transalp). I kept my promise to him, although during that discussion I had told him that I would certainly get myself my own bike eventually at some point later on in life. So, here I am.
What bike did you first start on and why?
My first bike was an Aprilia Strada Factory 660 cc with which I fell in love at a Bike Fair held in Athens on 2006 before I even got my license. I saw it and said "this is the bike I want to ride" and although friends tried to change my mind and persuade me to buy a smaller cc bike, that is what I eventually got after I took my license. I am pretty stubborn I guess. The first months were really difficult riding in the city of Athens but I was determined to go on and I had to somehow justify my choice and prove that it was not that hard after all. So, it was only after a year of having the Aprilia that I actually realized that the bike was maybe too big for me. So I sold my car and bought a Street Triple. :P
Describe your current motorcycle.
I currently ride a Triumph Street Triple 675 R and a Honda CRF L 250 every day in the city of Athens and as my dirt bike during weekends respectively. When I am not on my Triumph on rounds around Athens and small trips during the weekends, I am up in the mountains with my dirt bike and my life partner. Sometimes I steal his bikes to ride too. I love everything on my bikes. That's the reason I bought them – because I liked them so much. Motorbike choice is a matter of feeling and the beauty is in the eyes of the beholder.
What was the biggest challenge you faced when you were first learning to ride?
The biggest challenge was not really when I was learning to ride the bike, although I learned on a Honda CB400 which was very heavy. The difficult part was shortly after, riding the Aprilia around the crazy Athens traffic. Too heavy and too tall for an entry bike. European cities and especially those in the South and the Mediterranean can drive you mad when there are traffic jams. If you are not tall and strong yourself, and do not have any other previous experience, not even with a small scooter, I would not recommend the Aprilia for an entry bike. However, it was a beautiful bike with the head of a lion designed on the sides of the fuel tank. So beautiful! I was falling for that bike every single morning I was picking it up to go to work.
What's your dream bike?
I don't have just one dream bike. Dreams are for free, therefore I dream of a garage full of bikes. I would have a Ducati 996, and a Ducati 848, my last pure love is the MV Agusta Brutale 800 Dragster, a Royal Enfield. I would rebuild an old R series BMW. I would keep the Street Triple and the CRF and maybe another dirt bike like a four stroke KTM.
Do you have a motorcycling achievement that you take pride in?
Not in the sense of the motorcycle achievements (racing, stunts, very long distance travels) that I have read about in this blog. I fully respect and admire all of these women that I have read about. I thought it was a great personal achievement the first day I went to pick up my brand new Aprilia. I went to the store and I remember thinking – "What the heck am I doing with this bike now?" and then, "Ok jump on and go, don't think about it". I got on the street, shifted into first gear, a truck came towards  me and I stalled the bike from anxiety. Thank heavens the truck driver was patient. Greeks are not famous for their patience as drivers. I started the bike again and left. I had to pass through the center of Athens, through a bad traffic jam on a rather warm day. I arrived home forty minutes later after riding a distance that I would now ride in ten minutes under the same conditions. Keep in mind that in Greece motorbikes don't stay behind cars, they split lanes. I was behind a car the whole time. I arrived all sweaty and happy to be home.
Can you tell us a good story from your rides?
My favorite motorcycling story is from two years ago, when my partner and I decided to take a trip around the area of Peloponnese in South Greece, covering around 1800 km on secondary roads. It is not a vast area but secondary roads pass through the mountains and are narrow and full of turns. We arrived in the center of the Peloponnese, an area covered with a forest of firs, called Arkadia. We left our things at the village where we were supposed to stay and went out for a ride around the area to explore nature. We were in the middle of nowhere when we decided to take photos. We took the photos, breathed in the air, everything was great. Except for one thing. I got on my Triumph to continue the ride but the bike had other ideas. It was dead.
The lights were completely off. You cannot hear any kind of sound from it, only the birds signing. My partner took the bike and managed to start it but it went off again. We called our mechanic, trying to find cell phone's signal by going up and down the road. He told us that we had to measure the voltage to be able to tell if it was the rectifier or the stator. Anyway, to make a long story short, after many phone calls and a lot of effort to understand how we could manage to prevent the bike from going dead again, we managed to go back to the village where we were staying. The village didn't have anyone who had a voltmeter. We took my partners bike up and down the mountain five times that day until we found a voltmeter in a nearby small town. The rectifier was dead. Triumph had done a recall which no one knew about in Greece. After this, the recall got known to the Greek market as well. They sent us another one from Athens by bus because it was the fastest way for it to arrive. We changed the rectifier and continued with our trip to the Peloponnese.
Do you do track days?
I don't do track days often. I have done some in the past but there are some issues with the track outside Athens for some time now due it which it has been closed. We don't have a lot of tracks in Greece and the level of track days is certainly not great with regard to organizing women-only days for instance. I would love to see something like what the Italian girls are doing. They are great in organizing track days, riding schools and races only for women.
I did do the first two levels of California Superbike School and a couple of Ride Days that the CSS team organized. I chose this school because they are the most serious in what they do. They know their job and you feel secure having them on and around the track. I believe that a school like this makes you safer on the streets in addition to the the track. I would gladly do it again or continue with Level 3 at some point. I don't believe like a lot of people do that the CSS is only for the track. Whatever you learn there, you take it with you afterwards. The knowledge is yours to use for your own benefit.
Have you made any close female friendships due to motorcycling?
I have made a lot of acquaintances and a couple of friends due to motorcycling, both male and female. My closest female friend rides a Triumph Thruxton but she left Athens and now lives in the island of Crete in South Greece.
Do you ride with a club?
I have ridden in the past with a couple of clubs, but not many times. We did a few good excursions though. The good thing of having a life partner who rides motorbikes is that you can go everywhere with him or her.
Do you do maintenance and repairs on your bike?
I do basic stuff and I have helped my partner change the Street Triple's rectifier up the mountains of Peloponnese. These do not qualify me for a professional mechanic I suppose, right?
Do you have any motorcycling heroes?
I think what Bikers Against Child Abuse International do is great.  I also love Riders for Health. I would love to have some thing like this in Greece. These are the real heroes because through motorcycling they help others.
If you could design your dream motorcycle, what would it look, sound and feel like? 
There are so many dream bikes out there. I guess it would look Italian, sound like a V2 and feel like a feather.
Do you have any advice for people who want to get into motorcycling?
Yes, go for it! Life is too short to be in fear of things. If you want to ride, just do it. When you get yourself a bike, make sure you budget for good riding gear and some kind of Riding School. It will keep you safer.
RIDING IN GREECE
If I were to visit you and we went riding for one short morning ride, where would you take me? 
I would take you to Sounion where the temple of Poseidon resides, which is in the broader area of Athens. The road goes along the coast line heading East to the area called Sounio. So you would ride by the sea. The temple of Poseidon is an ancient Greek temple dedicated to the God of the Sea called Poseidon in classical mythology. The remains are perched on the headland, surrounded on three sides by the sea. The site has an incredible sunset over the Aegean Sea, as viewed from the ruins. The distance from the center of Athens is around 70 kilometers. [Link to Route]
What's the best part about riding in Greece?
Greece has a vast coast line and one can ride in the secondary roads that go by the sea. We do have national roads that connect our cities but the distances are not very long. One can ride up the mountains, or go by the coastline. The nature varies, depending on where you are. There are places like Mani in the South of Greece where the scenery is rocky, with not much vegetation very arid and dry and very hot during the summer months. On the other hand there is a vast area of mountains in central Greece where secondary roads full of turns will take you through forests of pines or even firs if you go further up the mountains. Northern Greece is closer to our neighboring countries –  Turkey on the East, Bulgaria in the northeast, FYR Macedonia to the North and Albania in the northwest. Through these countries one can head towards Central Europe. Greece, apart from its coast line has a vast number of islands. Most of the islands are connected to the Port of Piraeus, and they are great to explore.
In general, Greece is an interesting place to ride in because it has a long history and a lot of sightseeing areas with influences from different civilizations and often relating to stories from Greek mythology.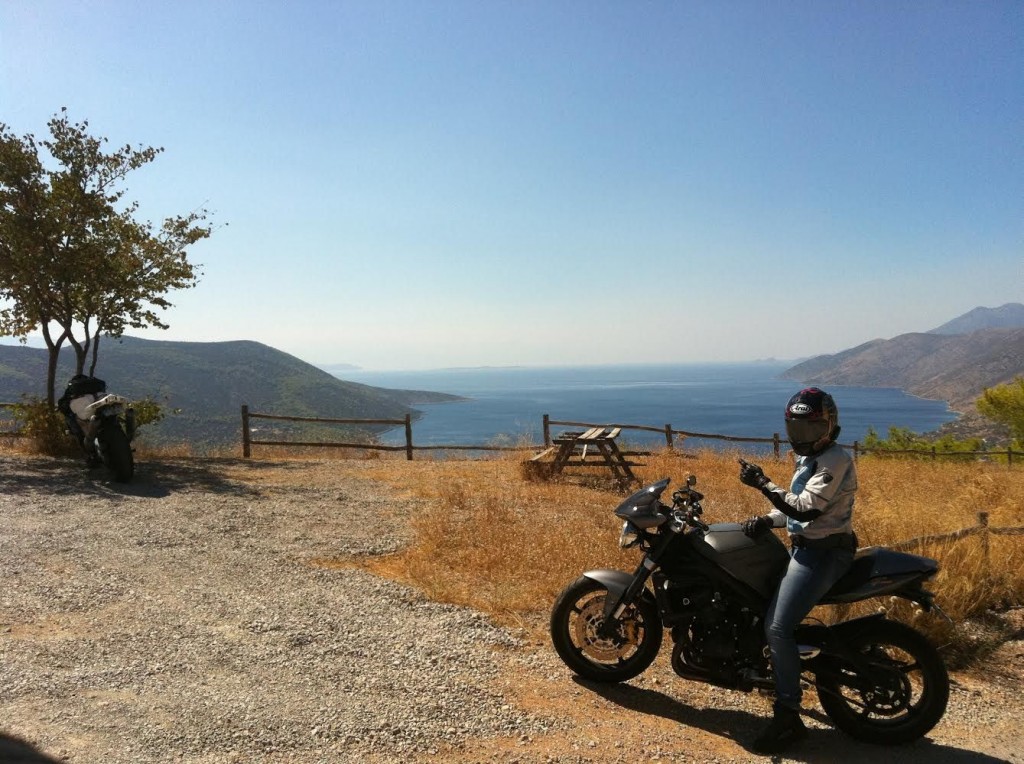 What kind of food can riders expect to stop for on the way that is typical to your region?
We do have traditional Greek food and in most parts of the country this is what you will find , except by the national roads where you will find more Western fast food. Traditional Greek food has a lot of vegetables, either cooked or in salads. We have feta cheese which is part goat and part cow cheese. We have the famous souvlaki, which is stewed meat wrapped in a pie with a sauce made out of yogurt, cucumber and garlic along with potatoes or tomatoes and onions.
If a motorcyclist from another country visited your country, what are the top rides you would recommend? 
I'd recommend going around Peloponnese, passing from the Corinth Canal, the city of Nauplion which was the first Greek capital city, going to Monemvasia, with the medieval fortress, going through Gytheion to the forests of the area called Arkadia, and passing from the Ancient Olympia to Patras. [Link to Route]
Another trip one can make is via secondary roads coming from Italy to Igoumenitsa and going around the central areas of Greece. [Link to Route]
How does the topography of the place you live affect the kind of motorcycling you choose to do?
The geography affects very much the kind of motorcycling you want to do. Our national roads are are not that great and you will often find yourself in construction zone where you need to ride with care. Our secondary roads are not always very well preserved. They are full of turns and pass through small villages and cities around Greece ideal for sightseeing and beautiful scenery. If you really want to explore nature, the ideal bike is a dual sport because you might end up in front of a dirt road and if you are on a street bike you will have to turn around and find another route.
What is the traffic like and how does it affect motorcycle riding?
The traffic is bad in the cities , but around Greece there are no serious traffic issues.
What are the best months for riding?
The weather is generally friendly for bike trips throughout the year. Greece is sunny almost all year round. With the exception of the core winter months – December  and January – temperatures in the cities don't really go below 0 C. What seems best is that one can visit the coast line in the winter and the mountains in the summer.
Is it safe to ride at night where you live?
Yes, it is safe. People are helpful and friendly, especially other motorcyclists. If you need help, ask another biker, especially if you are on road trips around Greece's suburban areas.
Is motorcycle theft a problem?
Yes, it can be a problem in the big cities but not in the villages.
Are there any motorcycle specific laws? 
Not really. The country is used to having a lot of motorbikes, scooters and small bikes. Although you must be very careful because priorities are not really respected and we drive like crazy in the cities most of the times. Bikes split lanes and in general in the cities there is some kind of chaos. The roads outside the cities are okay because you will not find traffic, unless it's August or most summer weekends when most Greeks go on their vacations.
Are there any motorcycling related political issues that affect your ability to riding? 
Nothing comes to my mind right now except that during the summer months when there is high danger of forest fires, visiting specific mountain areas is prohibited, some times for certain hours and sometimes for days. You cannot go for dirt riding during this time. The case to prohibit access for days is pretty extreme but has happened before in some cases. This is decided by the fire department and the police.
How do the police treat motorcyclists? 
They are indifferent. If the police wants to give you a fine about something, they will find a way to do it, no matter what. In general if you wear your helmet, you are okay, they won't even stop you.
Can you describe the motorcycle license test?
In general, you have a theoretical part with questions regarding the roads, the street signs and some example cases with multiple choice questions and then you have the part where you ride the bike and the examiners follow you with a car, giving you orders on where to go through a communication set attached to the helmet they give you for the test.
Do you have access to high quality women's motorcycling gear in your part of the world? 
No, not for women. A lot of the stuff I buy locally is made for men. I buy women's gear online from Germany or the UK.
Are any motorcycle related sports popular where you live and do women actively participate in them?
We do have races in Greece, but no, not many women take part in them.
How are women motorcycle riders treated?
Like aliens, by some people! There are a lot of people who consider it to be a male hobby, but in general most male motorcyclists treat us with respect.
Do female and male motorcyclists have the same amount of freedom to pursue motorcycling activities?
In the sense of freedom they do. Nobody forbids you to ride a bike just because you are a woman, but Greek society is still very conservative and it is embedded in the minds of people that it is not common for a woman to ride a motorcycle. For instance, in the villages you will see a lot of older ladies driving small scooters or small bikes but not big ones. It is supposed to be used only as a means of transportation but not a hobby.
KRYSTA RECOMMENDS
Books: Twist of the Wrist by Keith Code
Movies: Why We Wide, TT3D, Closer to the Edge
Magazine: www.ebike.gr (greek online) , www.motomag.gr
Blogs: http://www.t-motoriders.com (greek)
Web Forums: www.apriliabikers.gr (greek), http://www.street-triple.co.uk/index.php
Professional Motorcyclist: Valentino Rossi, Marc Marquez
Female Motorcyclist: Jenny Tinmouth, Sarah Lezito