Nov

30
Tags
Related Posts
Share This
Silvia Prokopieva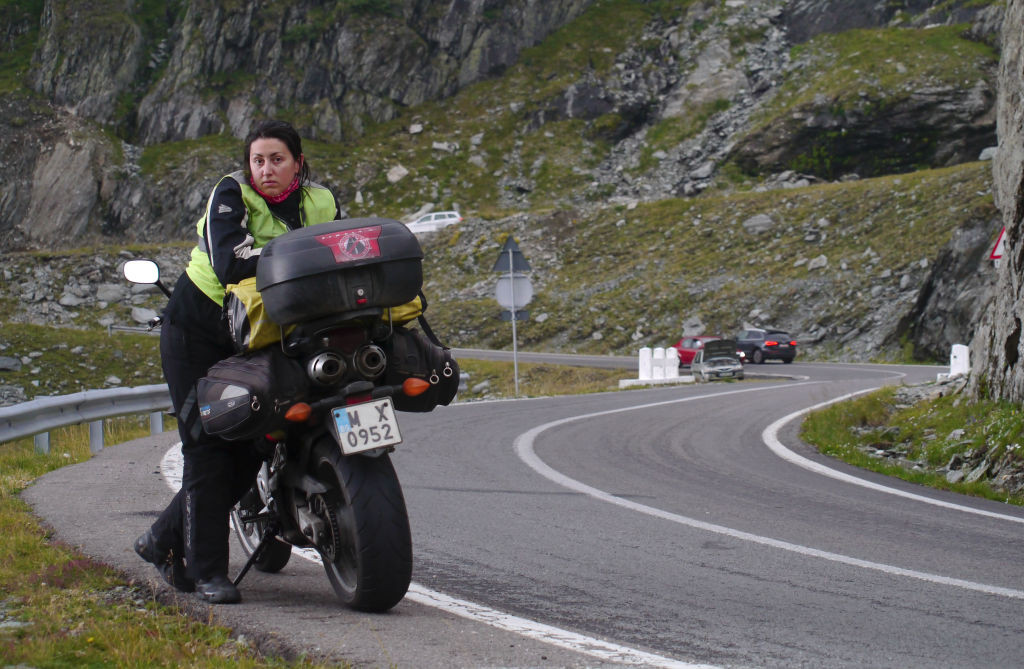 Name: Silvia Prokopieva
Age: 36
Country: Bulgaria
Languages: Bulgarian, English
Years Riding: 10
Height: 170 cm
Inseam: 78 cm
Current Motorcycles: Yamaha Fazer FZ6 2004
Past Motorcycles: Yamaha Virago 250 1994
Riding Gear: Shoei RF 1000 Helmet, Hein Gericke Jacket, Rev It GS Pants, Roleff boots and gloves
Kms Per Year: 6000
Please introduce yourself.  I am from Bulgaria. I earned my Bachelor's degree in Economics and Business Administration from the American University in Bulgaria. Most of my colleagues there knew me mostly for my biker dress code, love for motorcycles, and numerous bike posters in my room at the residence hall, rather than for the love of science. (smiles) I didn't actually have a motorbike at the time, just a romantic dream about them.
For the past thirteen years since graduation I have been working as a financial market analyst. My colleagues are aware of my interest in bikes, support me in every way, and are always very eager to learn about our bike travels. During this time, I earned a Master's degree in Macroeconomics and succeeded in becoming a CFA charter holder, which is a tough professional qualification in finance. Allocating time to work, studying, motorcycles and my other hobbies was not always easy to balance.
I enjoy activities and sports like martial arts, hiking, skiing and cross-country cycling. My main sport is shotokan karate, where I hold a first dan black belt. I have participated in a marathon competition on a mountain bike around a local mountain Vitosha. Although I was very slow, I was happy to finish the 100 kilometer track.
I was riding alone or with friends in a somewhat disorganized manner until I met my boyfriend. Having a motorsport background, he quickly developed interest in motorcycles and started riding as well. Soon after that we attended a Horizons Unlimited meeting in Moto Camp Bulgaria in Idilevo and while listening to the presentations, especially the one by Dimo Kalaydjiev on his Silk Road Trip, I realized that riding bikes on long-distance trips was not impossible.
Since then, we have done quite a few trips – to the Alps, around the Black Sea, to Armenia and Turkey, to the Karpaty Mountains and Ukraine, and to Moldova and the Pridnestrovie.
All in all, travelling on a motorbike can have a deep impact on the way you see things, challenge your stereotypes and turn your overall perception of life upside down. Through travelling I am learning more about the world every day and I am constantly meeting very interesting people.
Describe your path into motorcycling. In my teenage years I was very fond of the idea of motorcycles, which was quite a romantic one. I imagined that riding a bike was like Lorenzo Lamas in the "Renegade" TV series. (laughs) When  I turned 18, I got a motorcycle driver's license, but it was not until I turned 26 that I managed to save enough and buy my own bike. That was the first dramatic change in my understanding of motorcycling – riding and taking care of a motorcycle turned out to be not that easy and not that romantic. But it had other undiscovered advantages – the ability to hit the road by yourself and the freedom to do what you want to.
What bike did you first start on and why? I started riding in 2005 on a Yamaha Virago 250. I chose this motorcycle because it was small, low, inexpensive and easy to buy – a close friend of mine was selling hers and I bought it. Everybody riding bikes around me was convinced that girls in particular should start riding a small, light bike.
Describe your current motorcycle. Ah, the Fazer is a great motorcycle – you can ride it on a race track, on the road and if necessary off of it. Although the last is not that easy with touring tires. It is a sports touring motorcycle and not especially suitable for long-distance adventure rides. However, it will get you quickly through highways or long asphalt roads.
Although the bike is stuffed with electronics, I did not experience any major technical problems. By now I'm used to it, however the Fazer is also a relatively tall motorcycle compared to most touring bikes, and definitely a challenge for me since I am on my tip toes most of the time. 
What was the biggest challenge you faced when you were first learning to ride? There were lots of them – the weight of the motorcycle, the balance between clutch and gas. Most importantly, the challenge of taking the bike out of the garage and doing a longer ride all alone. There was always the fear of "what if the bike stops somewhere"? And very naturally – finding the proper mechanic to take care of the bike.
Can you tell us a good story? An old story. I was riding on a highway with my old Virago bike when the engine stopped and I had to pull over. There was fuel in the tank, so I excluded the option that I had run out of gas. It was absolutely unclear to me what the problem was and I spent some time calling friends and asking for advice. Finally, two guys stopped, one of whom was a motorcycle mechanic.  He turned the fuel reserve switch from "Fuel" to "Pri" and in a while the bike turned  on. We laughed a lot, but I felt like a complete moron. Every time I smile when telling the story, which reminds me that you need to have general knowledge of the specificities of your bike before going for a ride. (laughs)
What's your dream bike? I do not dream of any particular motorbike. Sometime in the future I would like to try a real adventure bike, like the BMW GS, the KTM Adventure or the Yamaha Super Tenere series. My childhood dream is to ride a Harley, so maybe one day I will enjoy a 1996 Dyna Wide Glide.
Do you have a motorcycling achievement that you take pride in? I was interviewed for the Bulgarian edition of ELLE magazine for an article that talked about women who are professionals and ride motorcycles in their free time. I was glad to be able to participate in an initiative that popularized motorcycle riding to women and to the general public.
What was your favorite long distance ride? Out of the long-distance trips that Nikolay and I did over the past couple of years my favorite is our loop around the Black Sea in 2011 and across Iran in 2015.
The Black Sea trip took us 25 days riding 7000 kilometers through five  countries. The official start and finish of our trip was the beautiful Black Sea Bulgarian city – Balchik. After that we travelled north to Romania and into Ukraine. One of the milestones was entering the famous city of Odessa. Another memorable spot was the Crimean peninsula – currently not that easy to reach due to the geopolitical situation. The road to Ai-Petri is very appealing for motorcyclists as it offers very sharp curves and magnificent sights, taking you quickly from ground zero to more than 1200 meters above sea level.
By far the most remarkable trips of all we did so far was through Iran. It was a challenge for me mostly because I was not sure how I was going to be treated as a woman rider, with a big motorcycle and not wearing the proper outfit of the country, not to mention the distance we had to cover – 10 000 kilometers in just three weeks. However, contrary to my fears I faced extremely positive attitudes, a lot of attention on behalf of almost all the people in Iran and admiration on behalf of the majority of women.
In terms of our route, we tried to cross Turkey quickly and entered Iran through the border stop Serow, close to the city of Urmia. The trip continued further through the city of Sanandaj, to Esfahan and Shiraz. From Shiraz we did a one-day trip to the Persian Gulf – Buchehr and coming back continued our trip north to Yazd, the Dasht-e Kavir desert and towards the Caspian Sea. We decided to skip Tehran due to a number of reasons and unfortunately I could not meet Bahar Parsa with whom we stayed in touch the entire time while we were travelling.
Riding in Iran as a woman was very inspiring for me as I got huge attention on behalf of both men and women. Women in particular were giving me "thumbs-up" all the time, while only a few were looking at me critically due to my messy outfit. It was also challenging as I had to be careful about the dress code and the scarf covering my hair all the time. The most funny moments involved arguing with kurdish currency traders at the border on the Iranian exchange rate, being reallocated three times in one night by the police/secret service, and having two locals smoke hashish in a tiny shelter by the road while we tried to have lunch.
Is there any other kind of motorcycling that you'd like to try your hand at? Yes, enduro and motocross. Actually, an old dream that always provokes funny comments especially from my boyfriend is to take part in the Dakar rally on a motorbike one day.
Have you made any close female friendships due to motorcycling? Yes, definitely, and most of all in Bulgaria. Ten years ago it was not that common to see women riding bikes. So we got to know each other via common friends. There was an online forum, the Bikerz, where we used to write in, and we also had a special female riders section. As a result of a short post on the Yamaha website, I met one of my closest friends and also a rider – Radostina Kostadinova.
At a Horizons Unlimited Meeting in Bulgaria I got introduced to another rider and a very good friend of mine – Vania Ganeva as well as our caring host at Moto Camp Bulgaria – Polly Marinova.
Do you do maintenance and repairs on your bike? I have to admit that most of the maintenance and repair on my bike is currently done by a professional – my boyfriend Nikolay. However, I like to stay in the garage and help with everything. I usually wash the air-filter by myself and tighten or loosen various screws when assembling and disassembling items on the bike. Repairwork is definitely something I want to do more of in the future.
Do you have any motorcycling heroes? There is a very famous Bulgarian woman and motorcycle competitor – Paraskeva (Patsa) Mancheva. She used to compete in the 50's in Bulgaria along with male riders, since there were no special categories for women.
If you could change one thing about the world of motorcycling, what would it be? I wish more people could start travelling on motorbikes. It will give them a chance to learn more about the world in general and get to know people from different racial, ethnic or religious background. The world is, in my view, becoming a separated place and people are afraid of the different and the unknown. Motorcycling is a unique activity that usually unites people and can certainly have a positive impact on a global scale.
If you could design your dream motorcycle, what would it look, sound and feel like? This would be a bike that will convert between off road and street bike. It will run on some environmentally friendly and natural resource efficient fuel.
Do you have any advice for people who want to get into motorcycling? People get into motorcycling for different reasons. In any case they should be very serious about riding and do it for their own sake, not to impress somebody or show off. 
[Photo Credit for all photos: Nikolay Kitanov]